Two Seasons as a Ski Instructor in Canada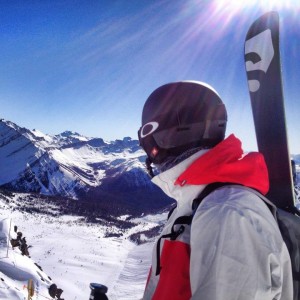 We caught up with one of our Basecamp Alumni, James, to see what he's been up to since completing his Instructor Course and it sounds like he's been having a pretty good time.
What year did you do your instructor course, and where did you do it?
January 2013 in Banff / Lake Louise.
Did Basecamp help you in getting work?
The Basecamp course definitely helped me get work. Unfortunately I broke my collar bone on the first day of the Level 2 training and had to finish the course early but because I had put a decent effort into the course up to the accident, Lake Louise still offered me a job for the following season. The Ski School realise that the training the course participants receive is of a very high standard. This makes you a lot more employable than others who .
Is ski instructing the dream job everyone thinks it is?
I mean who can complain about being in the mountains everyday teaching people to ski! Well actually all of us at one point or another. Although, when we actually thought about it we all agreed, we couldn't have it much better! Some days are very hard, especially after a big night out or if you have the world's worst behaved child. In my opinion the positives outweigh the negatives 99-1. I would never ever regret doing my seasons at Lake Louise.
What did you earn each week?
There are very quiet weeks and then weeks where you hardly get a break. It varies a lot on snow conditions, how cold it is and your sales over the season. In a normal week I was probably earning about 400 dollars. This could be more if you get lots of requests from returning clients, which isn't uncommon.
Best perks of being a ski instructor?
Lift Pass for the whole mountain!
Family discounts, retail discounts, 40% off food and almost free drinks from the fountain (including coke!). These discounts transferred to other resorts with staff trips at heavily discounted rates. The highly recognisable uniform gains you a lot of respect around the mountain.
World Class training from high level Instructors. Lake Louise has the highest pool of Level 4 evaluators and CSIA and Canada demo team representatives, all at your disposable!
And lets not forget about all the partying you can do in Banff!
What tips would you give anyone thinking of embarking on this lifestyle?
If you want to do it, be prepared for hard work. This balances out with the fun you get to have after the work is done. Hard work allows you more money, more money allows you to play hard and there is plenty of that. Make sure you listen to what the instructors have to say when they are training you, they definitely know best from all the experience they have had. Some days you will struggle and other days will be a piece of cake. It's always changing which means you have to be able to adapt quickly, especially where the health and safety of clients is paramount.
Has your skiing improved as much as you'd hope?
My skiing has improved ten fold, both from the training we receive in the mornings before lessons start and the attention that the other instructors give you. I started off working at Lake Louise as a Level 1 in the 13/14 season. Very quickly I passed my Level 2 along with my park course and then began training for my Level 3. I was awarded the scholarship, one of two Level 2 employees to receive one, the following season I returned.
In this season I was more focussed on building a client base and I had a lot of work which didn't allow me as much time to train. I sat my Level 3 anyway and passed the teaching aspect of it, but more training was needed for the ski element, but I wasn't far off! To summarise, I was a black run skier when I began, but can now ski confidently and technically pretty well on the whole mountain.
Is it work work work, or do you get to ski a lot as well?
It is completely up to you really. If you put in the effort it's recognised by the management team. You can be rewarded with more work or some time off to free ski, it's up to you. Some days if it's very busy you have to take a lesson, other days it's a powder day and there are not many lessons booked in, then you might get the opportunity to have the day off and ski.
Main challenges of the job?
Deciding whether or not it is safe to take a client up the chairlift for the first time. I think if you ask any of us this will more than likely be the answer, that or nightmare children who cry a lot. In a way if you are up for a challenge then this is definitely a good job for you. Being able to adapt is necessary as every lesson is different and the clients needs change to go along with this. Another challenge is giving new skiers and snowboarders the confidence to actually do it! We forget how scary it is the first time we learnt to ski and can get frustrated with the slower learning clients. You just have to get on with it and change your teach style to suit the client.
A big challenge for me and a lot of the people I was close to at the resort was the early morning starts after an hours sleep. Banff is a party town and ski instructors like to party. Be prepared for some very tiring days!
Like the sound of what James has been up to? Join one of our Basecamp courses and get out there next season!