7 Reason to do a ski season in Les 2 Alpes
All you need to know about doing a season in Les 2 Alpes
When you go and do a ski season the resort plays a big part in the experience so you need to choose a place that can deliver on your expectations we know Les 2 Alpes can.
We have been looking for somewhere new to do a ski season, and after some immersive research, we have finally found it.
Les 2 Alpes has the full package when it comes to doing a winter season from guaranteed to snow to a town made for seasonaires.
Here is the lowdown on all the resort has to offer season workers.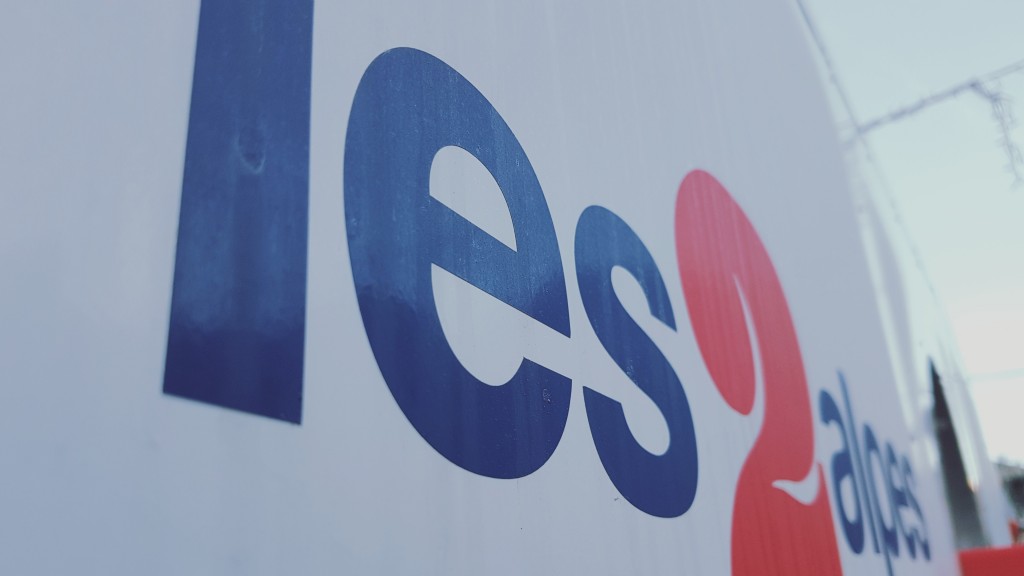 1. The skiing in Les 2 Alpes
The Facts: The ski area covers 415 hectares, within that there are 96 runs totalling 200km, a world-class snow park, and high glacier area.
During a season the average snowfall is 520cm meaning there is quite a few powder day to help make the most of the seemingly endless off-piste possibilities.
You will be surprised at the full range of terrain you can find in the resort with plenty to challenge you over the entire season.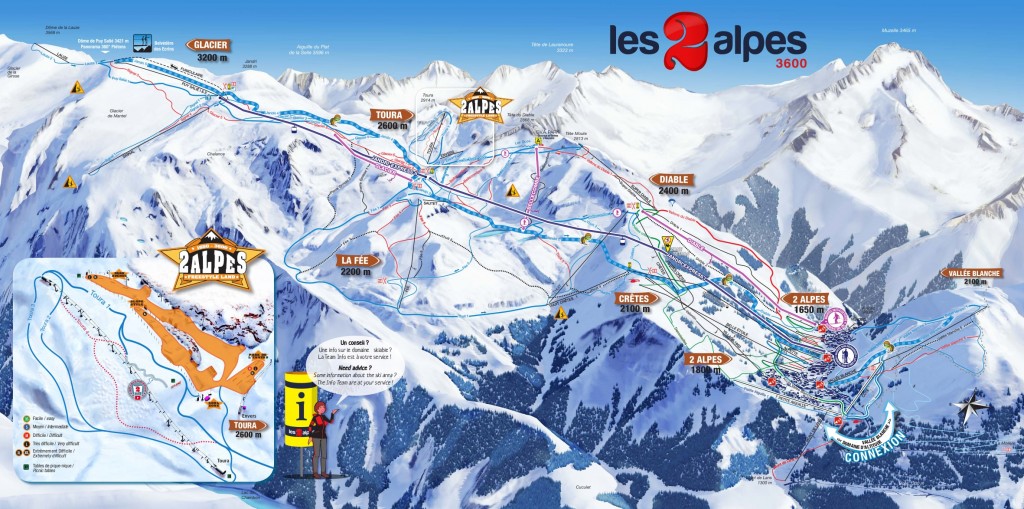 There are long reds and fast blues to help you work on your turns as well as some of the best bumps and itinerary routes in the Alps to challenge you all winter long.
All of this is linked up with some impressive and well thought out lift infrastructure that makes navigating the mountain a breeze.
2. The resort
If there was ever a resort designed for seasonaires, it could well be L2A.
The town is all on one strip at located 1300m above sea level. You enter the resort and make your way down the main street lined by cool bars, an eclectic mix of eateries and brand shops like DC, Volcom, and Billabong.
At the far end of the strip, you come to the southern, sun-soaked trendier area of the resort, home to best hangouts like Smithies, PolarBar and the Yeti.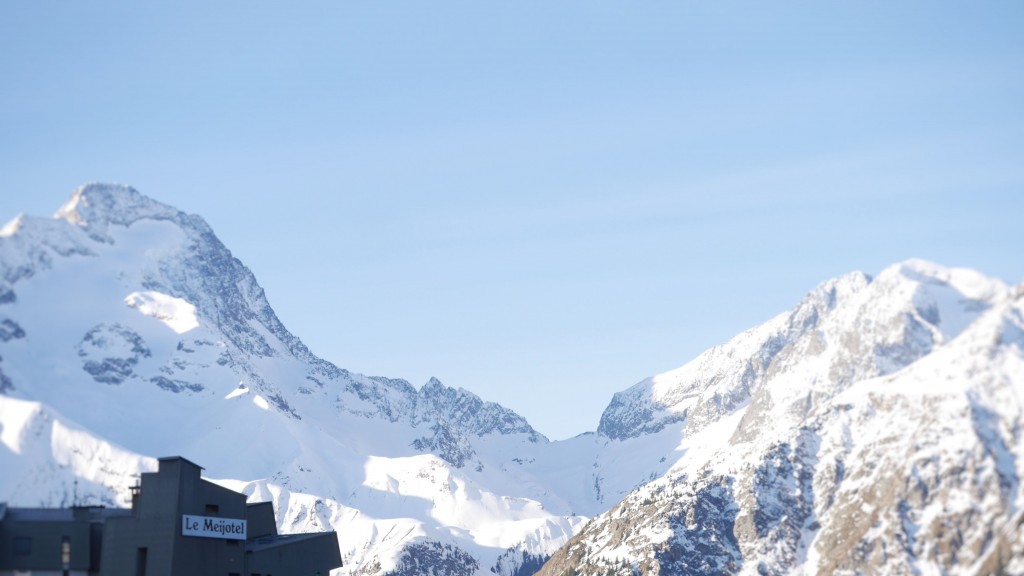 Deux Alpes is full of all types of seasonaires from workers to the bums all hanging out, having a good time and enjoying the slopes without the pretentiousness of other ski resorts.
The resort attracts a wide range of nationalities including a strong British contingent, but at its heart, it is a fun loving French affair.
Jim from the Ski Podcast recently visited the Les 2 Alpes – Check out his review.
3. Season length
The season is one of the longest in the Alps and runs from the first of December until the last weekend of April with a season pass costing around €980. Cheaper half-season passes are available.
If you are there from first lifts until the last, you could get in 175 days of skiing which is pretty much half a year on snow.
And if you love the place that much and need more sliding in your life, the glacier is open for nine weeks in the summer from the last week in June to the end of August.
And it also opens for a week at the end of October for anyone in need of a bit of help getting to December without clipping in.
4. Events in Les 2 Alpes
The resort is home to some of the biggest events in the Alps and they pop up all the way through the season.
Winter is kicked off with Powder Week where with a little help from nature riders get to celebrate the first turns on the winter with a load of activities, comps, and parties.
Next up is Rise, a fun alpine festival with the best musical lineup you will find at altitude. Past acts include Craig David, Skream, Wilkinson and
Annie Mac. 6-day Lift pass and ticket combo starts at €239pp.
Snow Jam appears on the calendar in the spring. It is a large scale freestyle event held up in the park. Alongside this are parties and open-air gigs.
5. Location of Les 2 Alpes
It may sound like the sort of thing your folks might procrastinate over when planning a ski trip, but the location of L2A makes it truly unique.
Firstly it is close to the Airport. Grenoble is an hour and a half away, and Lyon is just over two. Handy if you plan on popping home to the UK for a few days or have mates who want to pop over.
Nearby Alpe d'Huez can be reached in around 35 minutes in a car. This makes it perfect for a day trip. Plus your season pass gives you ten free days.
Even more spectacular is legend next door, La Grave. Dominated by the mythical Meije and famed for its freeskiing and unforgiving terrain it is where reputations are made.
La Grave can be accessed by a short drive and ride up the gondola. Or you can reach the area via short traverse at the top of the Glacier. To safely play and access La Graves routes, you should be accompanied by a guide.
6. The Les 2 Alpes Snow Park
The L2A park is designed, built and tested by a group of passionate and dedicated riders lead by respected park shaper Sylvain Garabos.
It is truly one of Europe's best parks that caters for all levels. You will find slopes style, Big air, boxes, rails, ski cross, and quarter pipes. All handly served by two chairs.
Throughout the season, the snow park hosts a variety of comps from big international to local invitationals.
7. Apres ski
Not only does 2 Alpes have incredible skiing it also has some great places to unwind and socialise.
On the slopes, there is the supper cool Pano where you can meet friends and chill at 2600m. Then every day between 3 and 5 there is live DJ's creating an alpine clubbing vibe.

Off the slopes in the town for aprés and evening there are plenty of cool bars to pick from small and intimate to big a busy.
A few of our faves are the Umbrella Bar, located piste side for ultimate apres ski access, Polar Bar with its chalet pub vibe, Smithys is the spot for live music and sport, and if you wanna stay out late, the Avalanche is the night spot for you.
---
If you are thinking about become as seasonaire in Les 2 Alpes and you fancy becoming a ski instructor at the same time check out our courses.