Where you can work in the UK as a ski or snowboard instructor
Working in a distant part of the world isn't the only option once you have qualified as an instructor, you could work a bit closer to home in the UK.
There are around 70 places in the UK that you can ski. We estimate that there are around 2000 full and part-time ski instructor jobs in the UK.
Find out where and how to apply.
Instructor jobs at UK indoor ski centres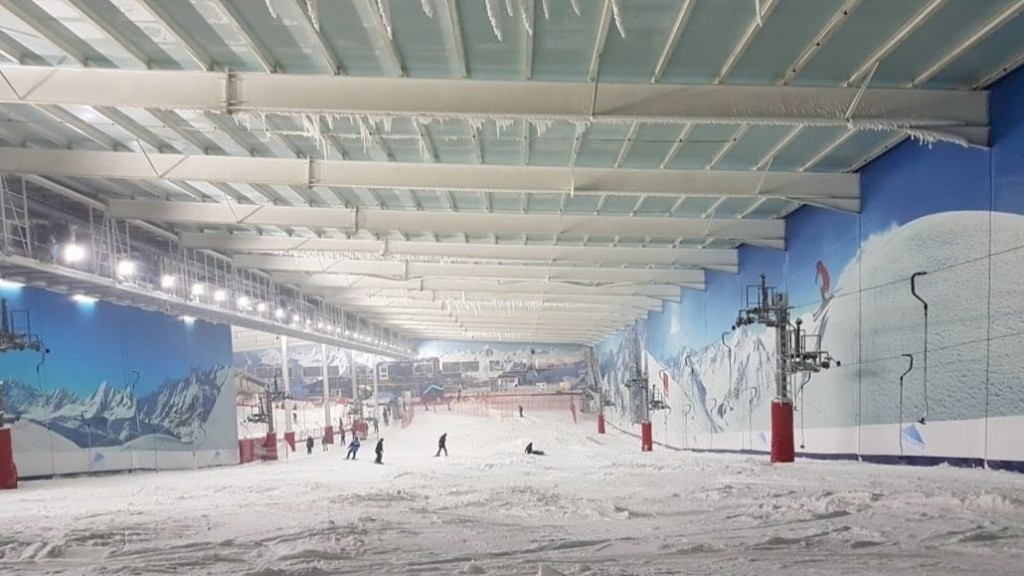 There are currently 6 indoor ski centres in the UK all offering a variety of instructor jobs and careers. Most ski centres recruit BASI level 1 (or equivalent) and up to be part of the team.
There are also wider career opportunities for instructors to become managers or to specialise in freestyle coaching or delivering adaptive disability snowsport lessons.
Wages from £10ph depending on the level of experience.
Hemel Hempstead
https://www.thesnowcentre.com/jobs
Leeds/Milton Keynes
https://www.snozoneuk.com/careers/
Manchester
https://www.chillfactore.com/jobs/
Glasgow
https://www.snowfactor.com/information/join-our-team/#
Birmingham
https://www.snowdome.co.uk/guest-services/jobs/
Instructor jobs at UK Dry Slopes
Dry slopes come in all shapes and sizes. From our local slope in Exeter which is 60 meters long to the Midlothian Ski Centre near Edinburg, which is the UK's longest at 400m.
There are a variety of jobs you can get. Some slopes are open all year round, others are club only sites and a few are just run during the winter months.
Each slope offers different facilities and types of instruction which means there could be full, part-time or on demand jobs. If you are looking for work at one we suggest that you first look into what positions are available at your local slope.
If you are looking for full-time hours you will need to consider applying to the bigger slopes or one that makes up a multi-sport facility and get a dual position.
A few to apply to..
https://www.nikegroup.co.uk/careers/
http://www.mendipoutdoorpursuits.co.uk/recruitment/
http://www.torfaenleisuretrust.co.uk/en/jobs
https://gloucesterski.com/about-2/job-vacancies/
https://www.skirossendale.co.uk/contact
http://www.suffolkskicentre.co.uk/jobs.html
http://www.norfolksnowsports.com/get-involved/
Instructor jobs at Scotlands ski slopes

During the winter months, you could work as an instructor in one of the many Scottish ski resorts.
Over the last few years, the highlands have seen record snowfall and a huge surge in participants.
There are 5 main ski resorts each with a wide range of terrain and facilities. The biggest is Glenshee with 40km of piste and the highest is the Cairngorm Mountain at a peak of 1230m.
https://www.nevisrange.co.uk/employment/
https://www.ski-glenshee.co.uk/jobs-at-glenshee
https://www.cairngormmountain.org/recruitment/
http://www.glencoemountain.co.uk/lessons/recruitment/
Instructor jobs at UK revolving ski carpets
Over the last few years, a few a new way of ski training has popped up and is designed to help improve people's technique and build fitness before the ski season.
The revolving carpet revolution needs instructors and it is a great job if you love skiing and want to be based in central London.
Chel-ski
https://www.chel-ski.uk/about-us
Easyski
https://www.skieasy.net/our-team-ski-instructors/
---
Before you can be an instructor you need to get qualified. We run ski & snowboard instructor training programs in some of the best ski resorts in the world.