Which skis will be best for my ski instructor course?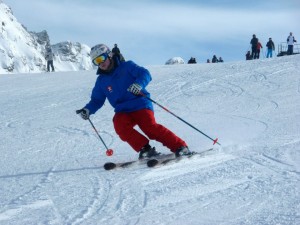 Each year there are a few who turn up to their ski instructor course with twin tips or fat powder skis. While these skis are ideal for fun days in the park or those much sought after bluebirds, they're not ideal for the instructor course.
Having the wrong skis will affect your ski performance in relation to the required criteria set by BASI, CSIA and NZSIA, so it's incredibly important that you have the correct pair to help you on the road to ski instructor success.
Training to become a ski instructor means you need a good piste ski. Your ability will be determined on your short and long radius turns, as well as your ability to show demonstrations at a more basic level. For this reason a suitable ski should be sufficiently shaped to allow carving skills to be easily learnt but not too stiff as to make them unforgiving. Ideally you are looking for a ski that is around 70 – 80mm underfoot, with a turning radius of 14 – 20m.
Here at Basecamp we have taken the stress out of researching the best skis for your course. With glowing industry reviews and coming highly recommended for the course by BASI Instructors, the Head I.Supershape Speed are exactly what you need to meet the demands of the course. Designed for top skiers enjoying high speeds on beautifully groomed pistes, these skis will help you achieve those distinctive carving lines, giving you the best chance of passing the course. Selling for as much as £679.95 in the shops, we have managed to get an incredible deal of just £475, with bindings included and VAT. To take advantage of this no brainer deal just get in touch with the Basecamp team on [email protected] or +44 (0)208 7899 055.
Check out the Head skis in action with our Basecamp video – click here