Which Member Of One Direction Is Most Likely To Become A Ski Instructor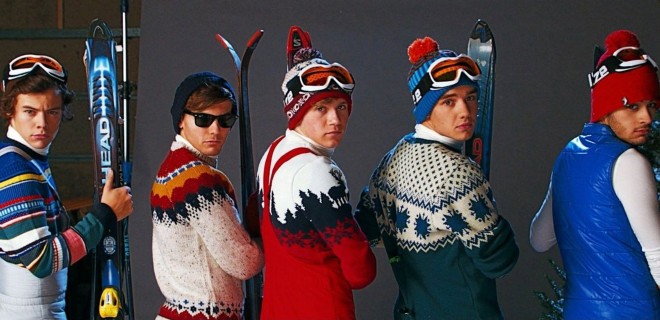 Once we had finished drying our eyes over the news that One Direction will be splitting up in March 2016 we thought that this would be an ideal opportunity  for one of the former boy band members to look for a new direction.
No doubt they'll initially kick back on their turbo super yachts pondering over the blur that is the last 4 years – fame, success, women, ink, and generally what the hell happened out there! But once all the sex, drugs and rock and roll has worn off I'm sure they'll start to ponder a more holistic lifestyle. You can see it now, ski instructor by the day, and apres crowd pleaser during the nights. Might not be as lucrative as a global sell out tour, but they'd breathe in a lot of fresh air, and imagine the tips! Madame Russia would pay through the nose for a one on one with Harry.
Remember Kiss you? No…? Topical ski related music video for their hit? No…? Call yourself a fan… erm, NO! Well, it's got them all in woolly jumpers showing some on snow form, and looking like they have actually skied before. So we wondered – which one of the 4 remaining superstars would make the best and most likely become a ski instructor?
Niall Horan – Likely to be a ski instructor score 4:10
Niall is the "Irish" one and the Irish aren't known for being a big skiing nation, despite there being an Irish bar in pretty much every ski resort ever. Niall has two phobias that may put a hold on any plans to be a ski instructor, the first is Claustrophobia, which means may he may struggle to cope with cable cars, apres ski bars and seasonal accommodation. His other phobia is Coulrophobia, a fear of clowns, that could prevent him working on many nursery slopes. There is evidence to suggest that Niall has had ski lessons and has been written about in great detail in this piece of Fan Fiction about the singer. We haven't read the story but we guess that is is about a female ski instructor that falls for her pupil, who happens to be Niall Horan. Please accept our apologies if you do read it and it turns into a 50 Shades type story, like we said we haven't read it and probably won't.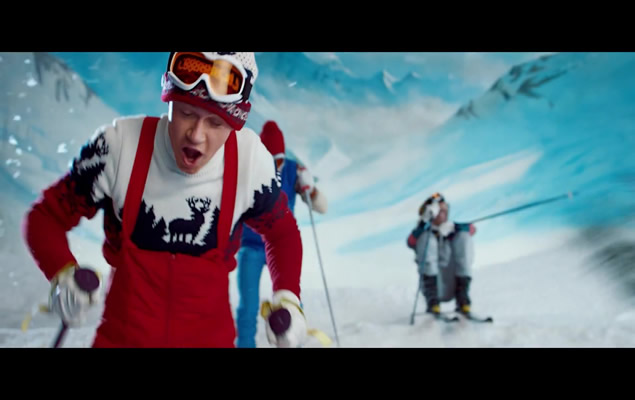 Liam Payne – Likely to be a ski instructor score 5:10
We remember watching Liam walk of stage after is first audition for the X Factor in 2008 and thinking "he walks like he has got ski boots on, that boy has instructor potential". We do know that Liam is a keen athlete and tried to make it into the GB Olympic cross country team, making him sporty enough to be a ski instructor, sports loss is musics gain. But in the words of Simon Cowell we would like to know how much he wants it! When pushed about the career he would have chosen if he wasn't in 1D he stated that he would like to be a Gym Instructor or a Fireman effectively ruling himself out of becoming a ski instructor. There is a slim chance he does have an interest in skiing as he did ask the audience  to turn up wearing ski goggles at a gig in Oslo.

One Direction – Kiss You Official Video
Harry Styles – Likely to be a ski instructor score 8:10
We know Harry likes skiing and has regularly been spotted on the slopes, often with his girlfriends such as Kendall Jenner and Taylor Swift. We can only speculate but he may have been the better skier and passed on tips as they skied about on the pistes, this could have sparked his interest in teaching skiing. Harry Styles is also known to prefer the older lady and he might believe the hype that all women fall in love with their ski instructor and this could be his motivation for the career change. Imagine the fear in the husbands eyes, when they are told that their wife's ski instructor is Harry for One Direction. He also seems to love himself enough to qualify as a ski instructor with out taking the exams.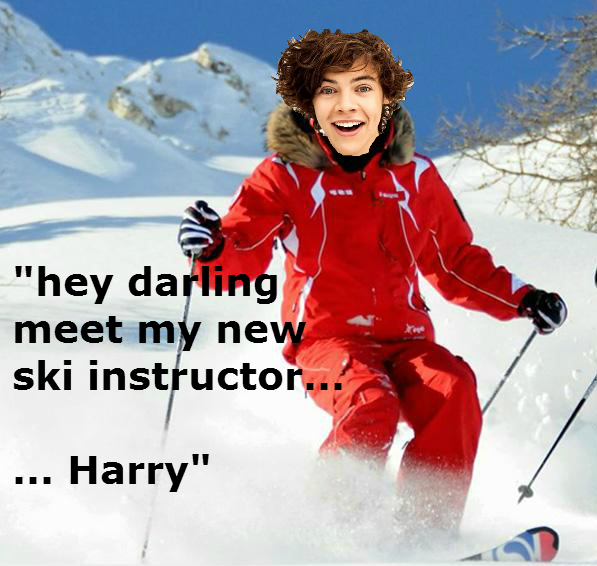 Louis Tomlinson – Likely to be a ski instructor score 6:10
Louis decided that Harry had it right idea and decided to take his girlfriend on a ski holiday. Judging by his instagram images he isn't a natural skier but that can be taught. We know that Louis has extreme sports in his blood and loves surfing, so maybe training to be a celebrity surf instructor like Andy Jordan from Made in Chelsea might be a better idea.

So there you have it, 4 Likely Lads, one very unusual situation, one big success story, and one direction that they all should take next. Come on fellas you know the number to call when you realise the shallowness of the life you've been living. The mountains are calling my friends, don't resist – come and join the white side and check out our ski instructor courses.