Week 1 is complete here in Meribel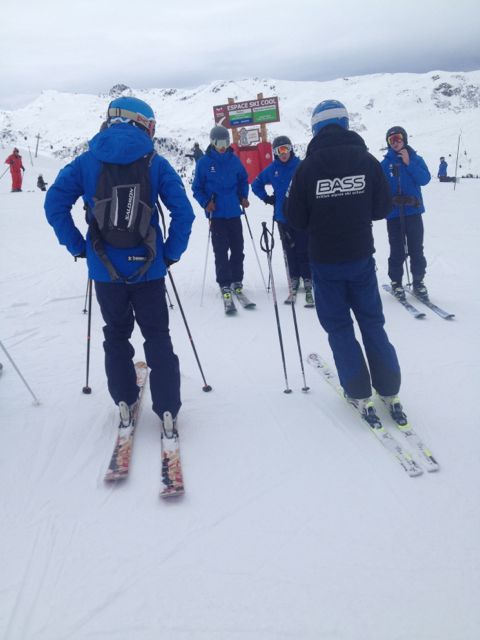 Wow, Week 1, Basecamp Meribel, done and dusted! And what an awesome first week it's been too!
Our crew of Basecampers arrived in resort last Saturday night, settling into our wonderfully quaint and cosy 'Chalet Les Matines' on the piste in central Meribel before being treated to one of the all-time Savoyarde specialities, loads of cheeeeeeeeeese by way of the traditional alpine raclette!
"There is no better way to welcome this season's Basecamer to alpine life in the mountains."
After dinner we headed over the snow and into town to sample the local night life. All of us made it to bar's 1, 2 and 3 and only the hard core made it further!!
Sunday morning was what we had all been waiting for and having sorted everyone out with their season long 3 Valley pass. We took on the massive 3 Valley, under bright blue skies! Whilst it had'nt snowed for a while, the piste in Meribel, Courcheval and Val Thoren are immaculately kept, the conditions were perfect for covering serious distance, and that is exactly what we did!
The only things we stopped for in the morning was a quick hot chocalate break in Vol Thoren. We then made it back to the central Meribel valley and headed straight for Mottaret and a famous mountain burger.
"We can be 100% sure that this will be the first of many visits to Mottaret for a famous mountain burger."
 
In the afternoon we were joined by Martin Jeffers.  Jeffers is heading up our BASI Ski Instructor training. It was great to get a few runs in on day one with Jeffers, as it will be down to Jeffers and his team to give our Basecampers the best possible training over the next 10 weeks. Having cruised around Courcheval and back round to Meribel via La Tania, we felt we owed ourselves a quick apres beer at famous Rond Point (aka the Ronny).
As a first day treat, we prepared tea and a freshly baked cake for when the Basecampers came back in. Also there to meet this season's basecampers was the rest of the BASI coaching team. We are really lucky to have such a highly qualified team of BASI trainers. 
Next morning and with no time to loose, our BASI Level 1 skiers headed out with Jeffers to be put through their paces.  Everyone looked super smart in their Basecamp training gear supplied by Salomon.  
"This year's kit has gone down especially well with the Basecampers"
 
The rest of the week saw plenty of down-to-work theory sessions with our ski trainers and I am pleased to report that everyone is taking to it really well.
Everyone also enjoyed the avalanche safety talk with international expert Henry Schnieder. This talk is not only fascinating, it is also potentially life-saving, giving our guys a good understanding of avalanches, how and why they happen and most importantly, how to avoid being anywhere near them.
As well as packing lots into week 1, there has been plenty of time for play too, with the guys taking in their first (of many by the look on Greg's face!) Lodge du Village / Bring Your Sisters après session:
And now? What we all wanted for the weekend – a forecast featuring snow, snow and more snow!

Thanks for tuning in,
Bri and Jaydeen
Keep in touch on Instagram #bcmeribel
Blurb
Week 1 is already done and dusted here in Meribel, centre of the 3 Valleys France.