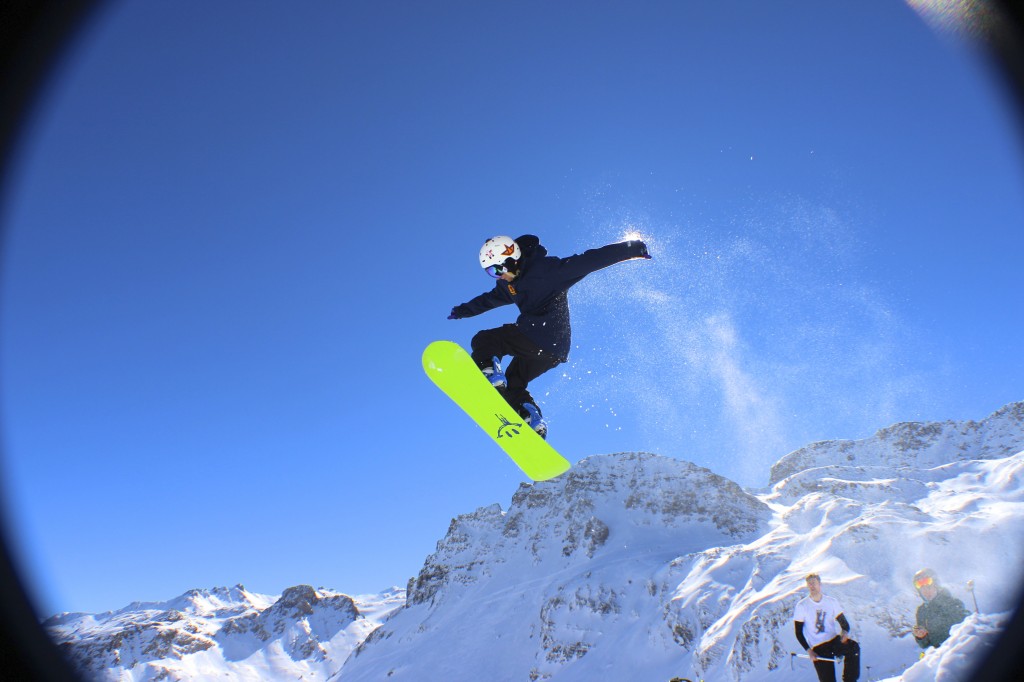 Is it really the end of week 8? Quite hard to believe we are now in our last week of BASI training before heading into the final 2 weeks of Level 2 Examinations. The pressures really been on from the trainers and it's started to sink in that the clock is ticking…that's not to say we haven't been having fun though. There's been 3 birthdays which has meant many a cause for celebrations, not that these guys need a reason to celebrate as they're having the time of their lives in Val. Conditions have been quite sporadic. A buzz of excitement surrounded camp with hopes of fresh powder as the whole mountain closed on Monday due to heavy snowfall and wind. Tuesday proved to be a glorious powder bluebird initially, but the snow quickly returned and it came down hard. Waking for first lifts on Thursday, blue skies were back but sadly in most parts the wind had been so strong that all that fresh powder had disappeared into oblivion. It was fun nonetheless, but now its so warm we're ditching jackets for hoodie spring riding.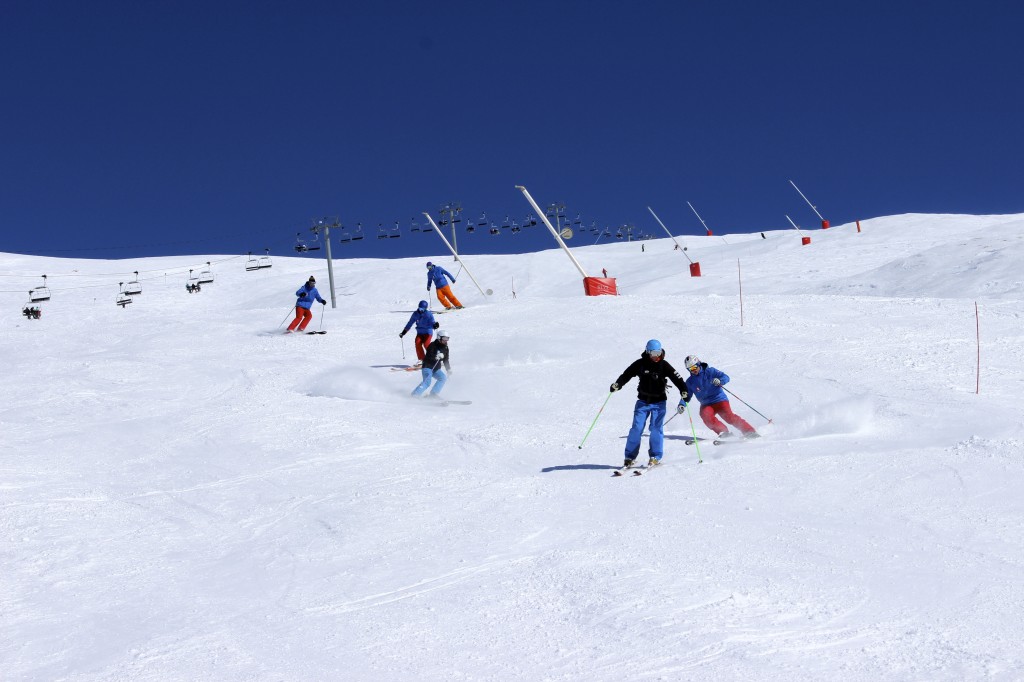 The BASI Skiers and Boarders look like a different breed of people this week. After receiving individual evaluation forms from their BASS Instructors, they all knew what technical, teaching and overall aspects that they needed to focus on. This gave them direction, and the week has been spent working a lot on central theme, and really solidifying all modules of the Level 2 exam that they will be tested on. For Jack and James it was a day and night adventure to Meribel to join the Level 1 Ski resits, while Brent and Chris did their Snowboard resit in Val.
Off the mountain, instead of the usual sights of Basecampers sat around a table having a few drinks a meal and a laugh in the evenings, the tables have been congested with papers and a few funny faces of concentration. Planning lessons, studying and ensuring their Child Protection Modules and Criminal Record Disclosure are completed in time for Level 2 has been a big part of the skiers week. I think they all now hate the sound of my voice as I have pestered them endlessly to get the documents in on time, hopefully they'll thank me for it later.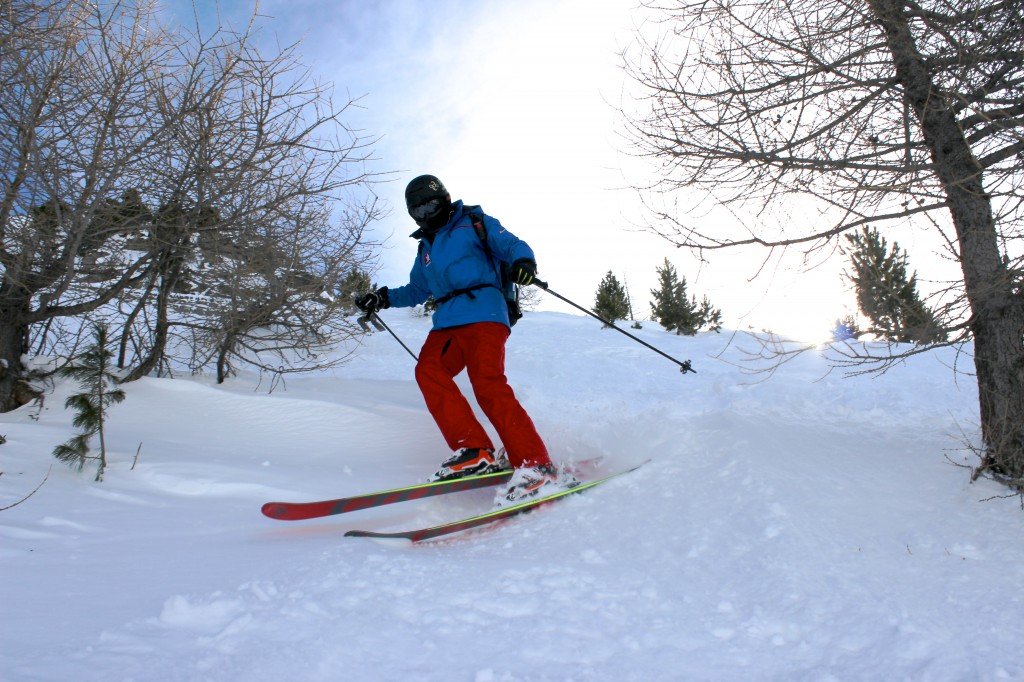 The Performance Course numbers are slowly decreasing as Harrie left resort. This means that Henry and Flo are the only ones left, and boy are they lucky to be having such world class instructing and guiding on such a personal level. Uffe is back and due to conditions the guys did a full epic day on Tuesday, another full one Thursday as well as Friday afternoon. The hunt for Spring snow is on as the climate gets warmer under the March sunlight.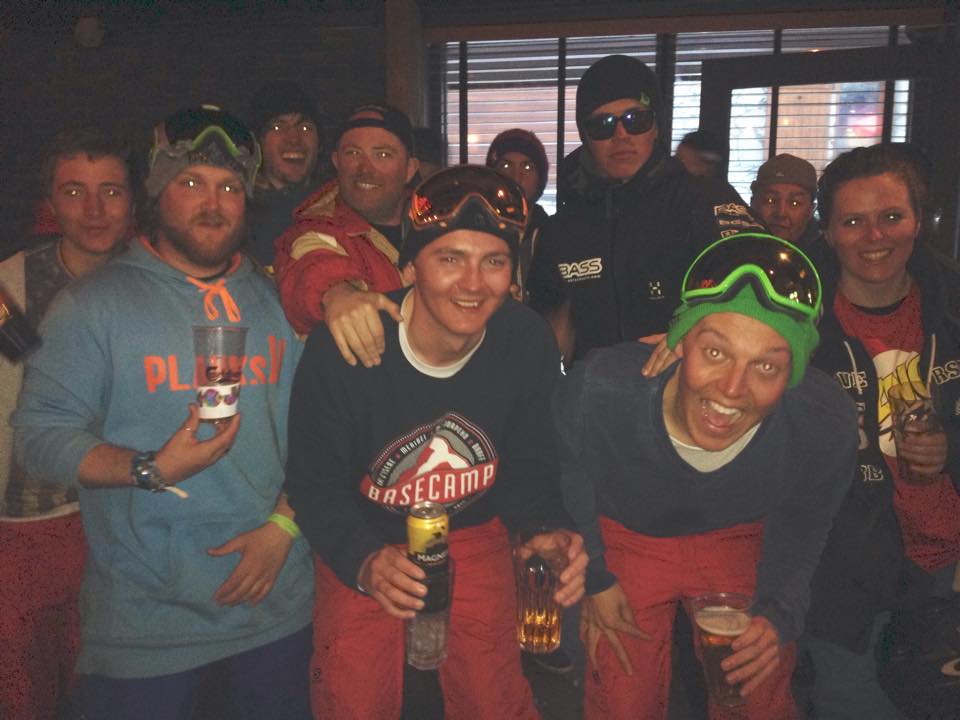 The weekend commenced on a  massive one for Rowans birthday, all the guys were out in force with many a Pitcher in Saloon bar, followed by Dicks until 6, and if that wasn't enough a few of the hardcore crowd hit bunker until daylight hit. It was Rowan's 18th after all, and being the youngest man here, we wanted to show him a good time into adulthood. Monday saw our first dinner at The Moris pub. A legendary burger that measures taller than most peoples heads, its certainly a challenge to consume. We loved it, and then a lot of us stuck around for a night of live tunes from the talented Firekind band. The mid week period was quite mellow due to the demands of the course, but Thursday saw the joint birthdays of Jack and Josh, so it was Bar Crawl o'clock. Tearing up every fine watering hole that Val has to offer, we had a great night. There were certainly a few sore heads in the Cocorico apres session on Friday, the last ever BASS lessons so we all headed down there to do the chicken dance and share a few cinnamon flavoured Fireball shots. Hangovers quickly evaporated and it was off for a team dinner in 4 Seasons.
Next week is the climax of what the last 8 weeks has been working towards – the BASI 2 Exams. The guys are as ready as they can be and are looking forward to smashing it. Check out the video from this week, till next week.