Val d'iary – Tales from Gwilym Thomas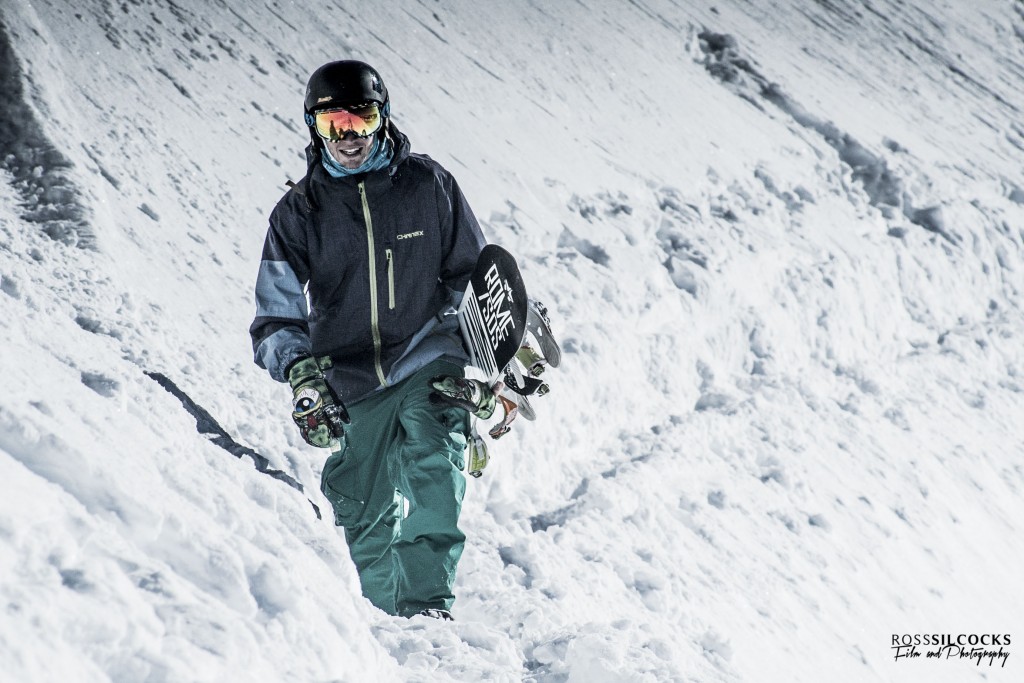 Val d'Isére and the neighbouring resort of Tignes is a skiing and snowboarding mecca. Not only does it boast some of the best off piste in the world, its got slopes to cater to all levels, enough snow park to keep any freestyle fanatic happy, and its all cemented by some of the best bars and clubs the Alps have to offer. A season working for Basecamp in Val d'Isere, what more could I possibly want?
Maybe a bit of snow.
Prior to leaving the UK on Nov 29th, I checked the Val d'Isére webcam in anticipation to see how much snow would be awaiting my arrival. What I saw was a shock, so much so that I thought the webcam hadn't been updated since summer. I was hyped nonetheless to be migrating to the winter grounds of Val…even if it meant i'd be marmot spotting instead of snowboarding.
I spent the first few days in Meribel, helping the Meribel Resort Manager Joe out to set up resort. With two chalets there, plus numerous apartments, there was a lot of stuff to sort out. However all he wanted me for was for my puny muscles. He set me to work on the essential task of moving firewood for the chalets. Having hurt my back in a long boarding accident, I was looking for an efficient alternative. This came in a form of a pulley, a ratchet strap, and a trustworthy Ikea bag for life. Pretty good idea if I may say so myself.
It was hard not to feel settled in Meribel as I was being wined and dined by our Chalet Hosts Liv and Liz (who's names I mixed up on a daily basis). I felt like one spoilt man being cooked a full english every morning, and a 3 course feast in the evening. The food and general atmosphere of the first few days in the Basecamp chalets were exceptionally good, but I refrained from getting too attached as the withdrawal symptoms would be too hard when having to change to romantic dinners for one in Val.
Following a few productive days work, along with a few fun nights out in Scotty's, The Tav and O'Sullivans, it was time to pack the bags again and hit the road.
I arrived in Val on Dec 2nd, and both Joe and I's hopes were raised at the actual sight of snow so close to the centre of resort. Instead of heading to the accommodation, we drove the truck as close as we could to Fornet Lift in anticipation. This felt more real, it was more promising – winter was coming.
After settling into the accommodation, it was time to settle into resort. I'd arrived at a lucky time, it was The Planks start of season party in Dicks Tea Bar. A party not to be missed, I headed out to meet the friendly crew at The Fall Line – Basecamp's Base Bar. After a friendly welcome, we meandered around to Petit Danois, before heading to The Planks party. The room was packed with seasonaiires, all buzzing in an electric atmosphere as we culminated the start of the season in style.
The majority of the first week was spent roaming resort, meeting faces both new and old and establishing good relationships with suppliers. Having settled into the Verdets accommodation with ease, I set up an office in the room where I could work in a similar manner as if I was back in the UK. To look on the bright side, the lack of snow in resort made working all day a lot easier on the mind.
With all operational and logistical planning well underway, it was only a matter of time before the mountains were calling. One of the early Basecamp students had been out hiking, and wasn't shy about telling me how epic it was up on the Fornet Glacier. I found this hard to believe looking at the centre centre of Val, the Jamaican bobsleigh team had more snow to play with in Cool Runnings. Regardless, I had to see it for myself.
Oh boy, how wrong I was. A dense fog lay at the base of the Fornet Gondola, disguising the peaks above. As we rose through the midst, I couldn't quite believe what lay before me. All my worries about the lack of snow evaporated as I exited the Valon lift onto the Col d'Iseran peak. The Glacier du Pissaillas was a snowy playground ready to be explored, it was the first run of the season plus I was clucking to test out my new Rome Gang Plank. It did not disappoint. With only 2 lifts and 3 runs open, I rode as much of the area for a few hours and instantly reminding myself of how much I love snowboarding.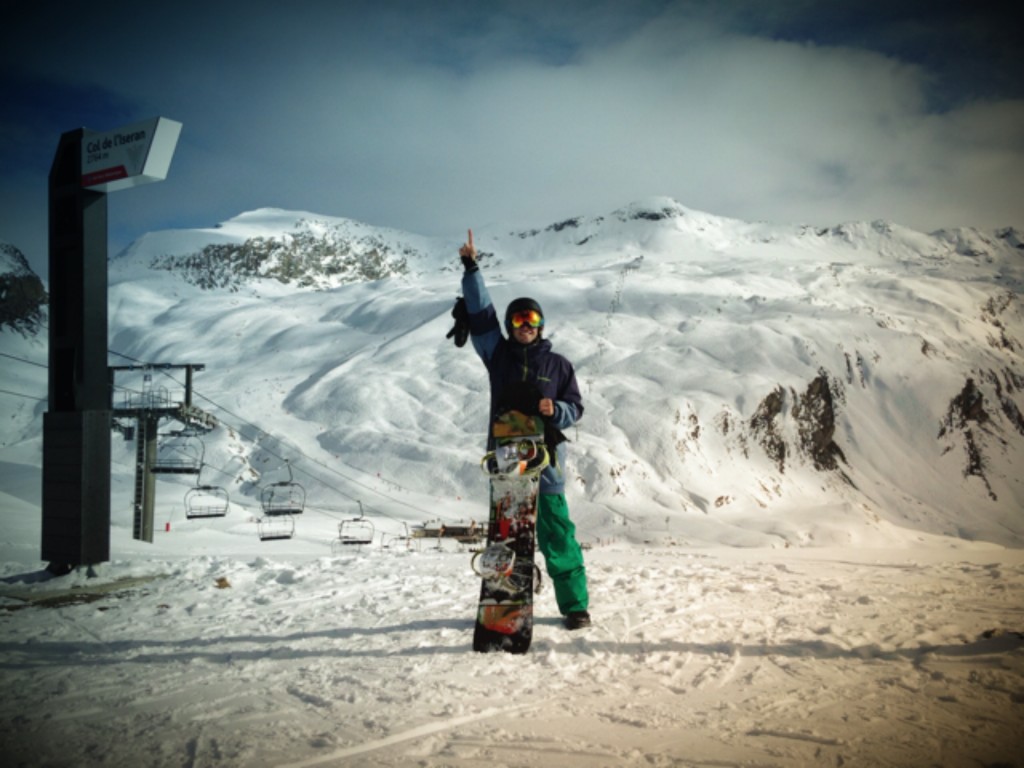 After many a snow dance, the skies answered on Monday Dec 8th with a fresh dumping of around 10cm of snow. Tuesday was going to be powder! Some say "there's no friends on powder days", but I couldn't turn down the chance for a bromantic ride with my mate Ross Silcocks. Having worked together on various projects for years, it was wicked to be hitting the first proper powder day with him. Being the rather talented photographer and videographer that he is, he was a packing a bag the size of a wheelbarrow on his back in order to film Warwick Uni who were out on a trip in Val. This is ideal I thought, not only can we ride together, but he can take some pictures for me and Basecamp.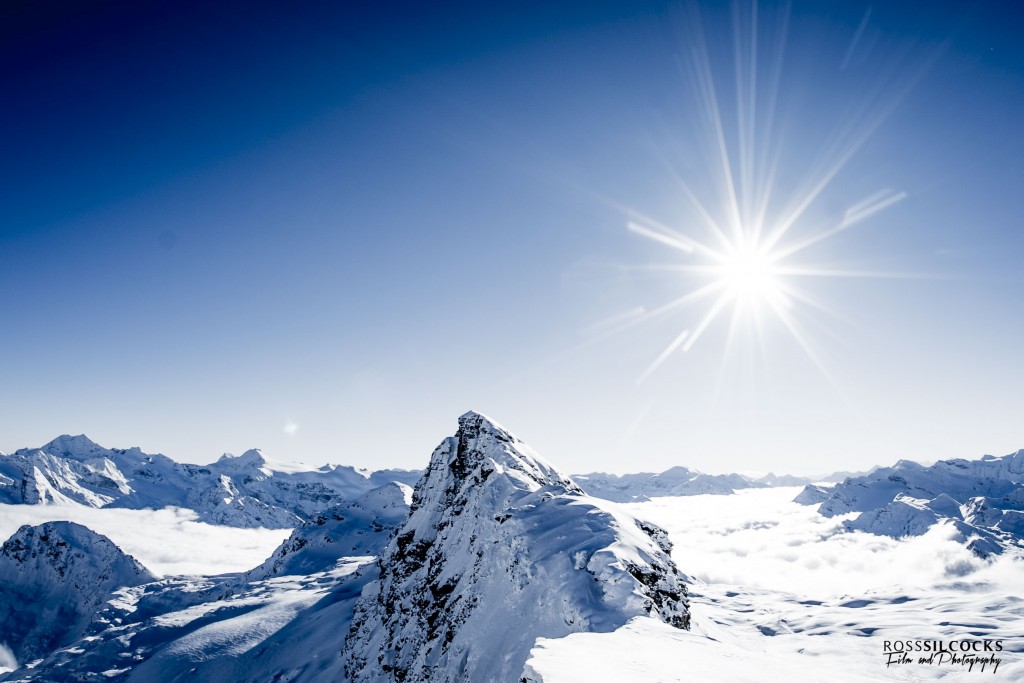 Arriving again on the Col de l'iseran, we rode down to the Cascade lift and ascended like two kids who'd slightly overdosed on sugar. Despite our hatred for T Bar lifts, we then rode down to the Montet in order to get as close as we could to the Pointe du Montet. At 3428m, this was our peak and we were ready to shred it. A short 20 minute hike led us to a glorious expanse of untouched powder, captured in a few couloirs and gullies at the top of the peak with an array of cliff drops for the adventurous ones amongst us. It was a blue bird, the view was jaw dropping, conditions couldn't have been better
We sessions the spot for a few hours, everyone dropping cliffs and charging different powder lines down the face of the mountain. Ross stood there like a hunter, capturing all of the action through his new sexy 4K Sony Camera. You know that feeling where doing something over and over again and it never gets old…I could've stayed there all day. The sun and time was not on our sides though. As afternoon ensued and the baking sunshine hit the face of the slope for a few hours, we took the calculated risk to leave just incase of any avalanche risks. We didn't need to be greedy, we'd had more than our share. We all rode down together in cheers of ecstasy and high fives.
I haven't been riding since as I don't think anything would come close to that afternoon…yet anyways. Instead I've been busy designing and planning Basecamp Freestyle courses. Whether you've jumped nothing higher than an ant before, or are looking to take your 360s into Cork and Rodeo territory, then these courses are for you. We offer everything from Day Courses to zero to hero ones lasting a week. There's more specific information to follow, but please drop me an email on [email protected] if you'd like to know more. In addition to this, we've got some more early Basecampers arriving in resort so lots of time has been spent prepping the accommodation, sorting out ski passes and lots of other fun stuff that I won't bore you with details on.
I'm eagerly anticipating the start of the course in January, but until then there's lots of work, snowboarding, and good times to be had. Till next time.