Powder, parties and a perfect start to our Val d'Isere season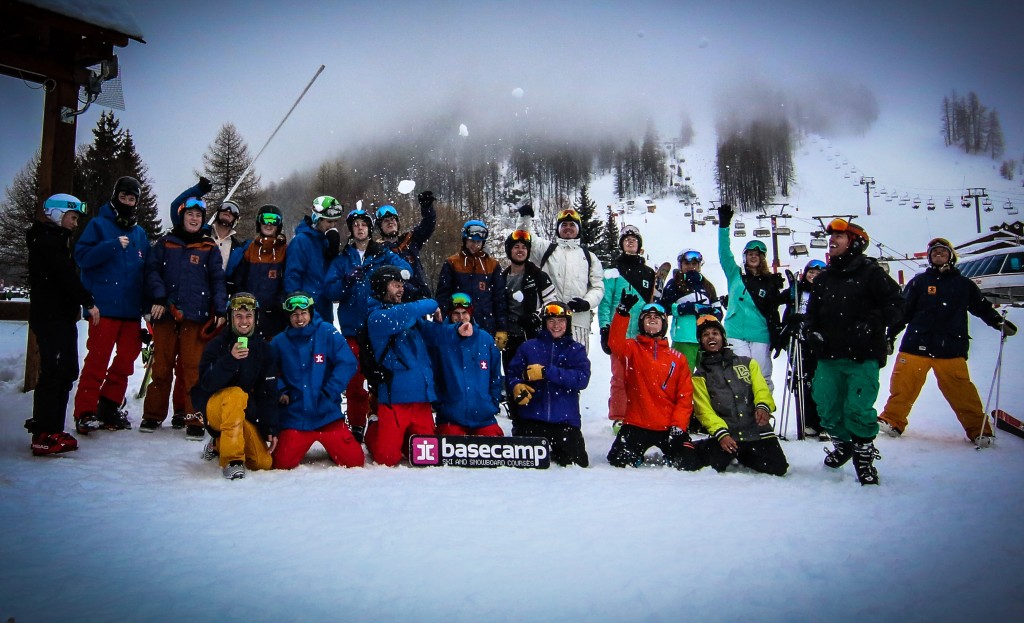 Even though the sky was densely congested with large snowflakes, the excitement in the air for all Basecampers in Val d'Isere on the arrival day of January the 8th was still palpable. The snow couldn't have come at  a better time, following a dry December of iceskating across patchy pistes, the new year welcomed not only our new seasons Basecampers, but over 2 metres of the much needed white stuff.
I suppose before continuing I should introduce myself, i'm Gwil the Val d'Isere Resort Manager back for round 2. Stay tuned to this blog for the next few weeks to stay in the loop with everything from Val. Running resort alongside me is Dave who is an ex Basecamper and currently on his Level 3 BASI training. He will also be writing the blog when I get writers block. Anyways, enough about us…lets give you the lowdown on what's been going on…
On the Friday arrival evening, following a swift check in to the accommodation we headed to the Moris Pub for a heartwarming welcome meal, and a jovial beer or two. Everyone was eager to meet new friends and excited for the season ahead. The bar quickly erupted with a couple of hundred people as the infamous Dominos Apres band we're there to play a gig. A few shapes were thrown and the season was certainly off to a strong start! The first weekend was spent with everyone settling in to their rooms, getting to know people, skiing as much as we could in the dense whiteout and getting the snow legs sorted for the first lessons on Monday.
BASI SKIERS
Its been thumbs up all round from our BASI 1 & 2 Skiers. The photos above was the first bluebird after 5 days of whiteout last week, so everyone was super stoked to be able to see the front of their skis which made life a lot easier. This year our Skiers are sponsored by Armada, and we have to say they're looking pretty pro in their kit. The first two weeks have been spent breaking down everyones skiing to the basics of steering, posture, teaching and all evolving around the BASI central theme thats needed for the course. Friday sees the last day of training before the Level 1 Exam next week, good luck everyone!
BASI SNOWBOARDERS
Who's this rad looking collective you may ask? These are a our BASI Snowboarder shredders who have had the luxury of two instructors in the first fortnight. Mixing things up definitely is a bonus as it makes them more rounded riders and gives greater opportunities through different learning techniques. They started off with Stephane Weihe (right) and then went on to have some pointers from Neil McNair (centre). Donned in Colour Wear kit this year, they are also looking the part! The fundamentals and central theme has been the main focused, and the main challenge has definitely been learning to ride switch…it has provided some really entertaining bails though.
PERFORMANCE COURSES
We've had deep, we've had steep, so much so that someone even coined the phrase Pow d'Isere and mates in Japan were even thinking of booking a flight here. I can't remember having so many powder days in a row, I think it may have been 6 days of early nights and first lifts…followed by ecstasy, screams and sore legs. The Performance Skiers and Boarders have all been feeling the same, and having done their avalanche transceiver training they've been out daily exploring the vast free riding playground that the Espace Killy has to offer. While the BASI guys will be eyeballs deep in exams next week, the Performance guys will just be winding everyone else up with stories of fun powder days and maybe a few park laps.
SOCIALS
Work hard play hard is definitely our ethic, and we've had some super fun nights out. New to Val this year is a bowling alley in the rather fancy Les Barmes de l'Ours pictured above. Its the kind of space you see on MTV Cribs in some multi millionaires game quarters, with bowling, baby foot, pinball machines, playstations and a pool table crafted by BMW that's far nicer than most beer stained pub tables we usually play on. Naturally everyones super excited to be here, so we've been out sampling the cracking nightlife Val has to offer and once or twice ending up in Dicks Tea Bar until the early hours. Yesterday we hit the infamous Cocorico for a live band and the place was going off!
On the calmer, safer side of social life Monday evening was spent in Rize Cafe having a very interesting avalanche safety talk from Henry's Avalanche Talk http://www.henrysavalanchetalk.com. It was so informative and essential for all the guys to be fully aware of the dangers that lie here. Tuesday we tried to get everyone to the outdoor heated swimming pool and spa for a healthy chill out. It ended up being Dave, myself and two Basecampers, quite frankly the rest of them missed out as the place is sweet and definitely helps sooth the muscles after a solid day on the mountain.
Just for the record, regardless of what poor journalism the Daily Mail have recently published, Val d'Isere is not the new Magaluf. Fair enough you can always find a good party, you may encounter a few drunks on a walk home at 5am, but lets face it that's not an uncommon sight in any global town.
We run courses in Val d'Isere as it is a zenith of the best skiing and snowboarding terrain on the planet, and the last fortnight has been spent thigh deep in a powder heaven for all of us. May it continue!
We're going into week 3 and its time for the BASI Level 1 Exams. Good luck to everyone, till next time.