Part-time job during a ski instructor course
 Yes! Amongst many other responsibilities, your Basecamp Resort Managers are on hand to help find and organise part time jobs for Basecampers. Their previous season's experience means they are well connected within the resort, meaning they'll always be one of the first to know about any new openings.
There are an array of jobs available for any proactive students eager to earn enough extra pennies to subsidise their social life and make the odd ski purchase. A popular choice for part-time work is chalet cleaning at the weekends. Companies such as Mountain Rooms in Val d'Isere and Silver Swan Recruitment in Meribel, hire seasonnaires to clean chalets and apartments on changeover day. Don't worry if you're no Angie or Sue or never touched a hoover in your life, as they'll train you up to keep things tidy and clean.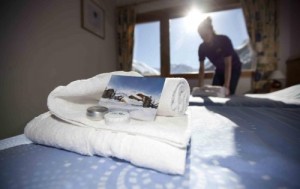 Another option is to work for a transfer company as a bus rep, as tour operators such as Ski World and Crystal Ski often need extra staff at the weekends. Your duties would include accompanying guests travelling from either Meribel or Val d'Isere to Geneva airport, collecting up the new, excited holiday makers and then heading back up the mountain. No Fuss Bus, a transfer company operating out of Geneva Airport, are also always on the lookout for bus reps and weekend administrators.
Finally, there are always bars looking for staff in both Val d'Isere and Meribel, however, we would advise against week day evening work. Trust us when we say that late nights and early mornings do not produce the best results on the slopes! If possible, we would recommend prioritising the majority of your time towards your training and focussing on passing the instructor course, after all, it's the reason why you're out there!
If you'd like any more information or advice on organising a part-time job, just email the team on [email protected] or give us a ring on 02087 899 055.
Potential Companies
Mountain Rooms –  Click here
Silver Swan Recruitment – Click here
No Fuss Bus – Click here