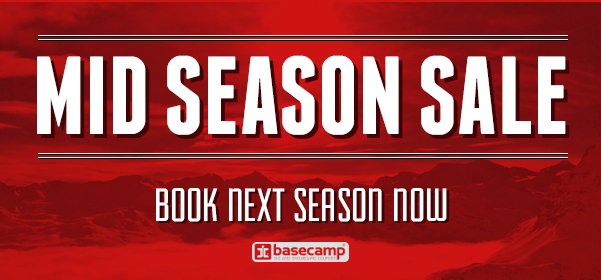 We know how lifechanging our courses are, we see people change right before our eyes season after season; whether our courses are used as a fast track to the awe inspiring snowsports industry or simply as a one off experience you will have the time of your life, fact! We want to share the experience with as many people as possible.

"Book now and you'll save up tp £700 off the regular course price – Limited places available!"
 
Mid-Season Sale for 2014/15
We want to make it as easy as possible for people to join us on our courses. We understand that they cost a lot of money, the mountains are expensive places to be! We also understand how far in advance people start making their commitments to the cause.
We are here to help make our courses as affordable as possible, and ensure that everyone who comes with us gets the best possible value. That starts with having the most competitive prices, with the most course inclusions, and continues with our range of kit discounts from all the main retailers, then carries into the resort with regular discounts in the shops and tha bars.
With all of this in mind we are running a mid-season sale!

"The places you'll see, the people you'll meet, and the good times you have will change you and your life forever, you simply won't look at things in the same light again!"
How long will the sale run for?
We are adopting a three tiered pricing strategy, whereby each course has a certain number of places available at the cheapest price, when all of these are gone the price will increase, and then it will increase again until we are full.
That way we can reward the early bookers, and make sure they get the best price; it also give anyone in two minds a genuine reason to book the course, as if they don't the price is likely to increase!
Courses Overview

Long Courses   
Ski Instructor Courses
Summer
Mt Ruapehu, New Zealand – for £6750 save £500
Winter
Meribel – from £6,895 (includes fully catered ski in/ski out chalet) – save £600
Val d'Isere – from £6,895 – save £600
Banff – from £6,695 – Save £500

Performance Courses
Meribel – £5,995 save £700
Val d'Isere – £5,995 save £700

Snowboard Instructor Courses
Summer
Mt Ruapehu, New Zealand – for £6750 save £500
Winter
Val d'Isere – from £6,895
Banff – from £6,695 save £500
Performance Snowboard Course
Val d'Isere – 10 weeks for £5,995 save £700

Short Courses
Level 1 Ski Courses
Val d'Isere – for £2995
Banff – for £2,950
Performance Courses
Val d'Isere – from £3,595

Work as an instructor in the same season
Banff – Level 1 Ski Instructor – with Job Interview – £2,950

How to Book?
If you're thinking about doing one of our courses then contact our course advisors. We all know the courses, the resorts and the industry inside out so will be able to impartially help you make an informed decision about your course.
If you're ready then simply fill out this booking form you will then:
Pay a £95 desposit online
Pay the reamining £405 deposit within 3 weeks
Pay nothing until 3 months prior to your departure 


What if I'm already booked on for next season?
We always honour the lowest available price to everyone who books early, so are honouring the sale over to those already booked on as well, and will be contacting you shortly to let you know the details.
Blurb
Save up to £700 on your Basecamp course by booking early! Mid season sale available to the first few bookings!