Butta Boss Jim Stewart spreads his story
Jim Stewart of Butta tells us how he built his wax brand.
All of us here at Basecamp thrive for winter, and truly believe that we all need to do our bit to to help preserve our beautiful planet and the seasons that we all live for. Butta Wax are one company that are doing exactly that, so we touched base with one of the main men Jim Stewart to find out about how he carved his way to launching this 'easy to apply, long lasting, nice smelling, fast, reliable green wax'.
Quitting the 9 to 5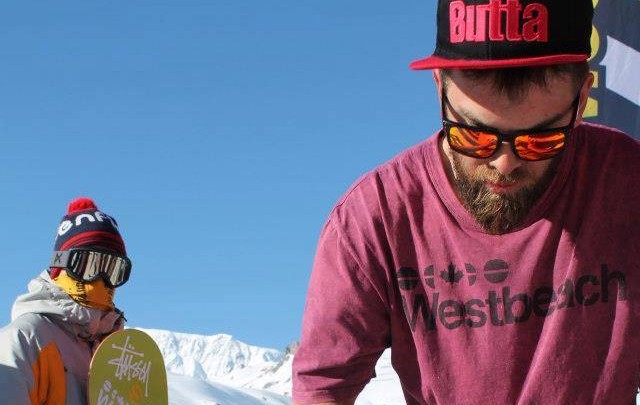 It feels like a lifetime ago that I was sat in my bosses office handing in my notice of my job of 10 years…
Having packed my van with my snowboard gear and as many super noodles & cans of beans that would physically fit, it was time to head off to the mountains of Val d'Isere to start my new adventure.
This whole thing came about after a Facebook conversation I'd been having with my mate Gumby. He knew I was bored of my 9-5 day job so he convinced me to throw in the towel, fit seats in my van and start making some dollar ferrying seasonnaires to and from resort. The plan seemed flawless, I was going to get rich quick and snowboard every single day. Who wouldn't drop everything for that!?
Heading to the mountains
The night before my departure was somewhat eventful. The farewell down my local pub got a little bit out of hand and somehow the idea of taking my van green laning seemed like a fantastic idea. Needless to say, it was fun well that was until my gearbox blew on the maiden voyage just outside of Paris and the van ended up being ditched on a motorway! I never gave up however, the vision of fresh powder kept me going so I rented a car, stuff in as many of my treasured supernoodles as possible and pushed on for Val d'Isere!
So my plan of being a driver for flocks of tourist was no more… I needed a new plan…Jobs in town were few and far between, so I spent my first season doing what I could to make a crust –  cleaning floors, fixing cars, etc, etc.
It wasn't until my second season that I landed a job as a ski technician.  It was perfect! I'd spent my childhood & the first 10 years of my career fixing and repairing cars, so I transferred these skills to snowboards and skis. I loved it, the pay was good, the hours were good, and I soon realized I must have been born to fix things!!! When I had been working in the car garage back home, I was known to be a bit fussy about the materials I was using and at first it never occurred to me that I should have been the same with this new job…
That light bulb moment
I was sent a press release on fluorocarbons. My first reaction was "what the hell is a fluorocarbon"? Apparently it's what the wax I was using was pumped full of. I knew the wax was called 'HIGH-FLOURO' but I just thought this was a fancy way of saying 'yeah man it makes ya board like super slippery'. I continued to read on, the press release was detailing all the side effects you get from using a HIGH FLOURO product….nausea, headaches, tiredness, vomiting….. I had all of these symptoms! Being a typical seasonnairre, I thought it was just the result of too much drinking and too much partying, basically burning the candle at both ends. The study went further and mentioned the long term side effects including memory loss, muscle fatigue and the one that stood out the most for me…. lowers your sperm count! Now, I was nearly 30, a drinker, a smoker…. I certainly did not need any help with that one. Not only was this wax killing the mountains, it was damaging my chances of having Olympic hopeful children!
So, I spent the next few months trying different ECO waxes but I couldn't find one my clients or I liked. BUGGER. There was only one thing for it… make the most of my C grade double award GCSE science and develop my own. My fellow seasonnaire buddy and now business partner 'Burns' set up camp in my dad's garage back home in Surrey.  Breaking Bad style, we locked ourselves away in our new 'lab' cooking up different recipes and seeing what we could muster. Just under six months later, mine and burns first child was born… welcome to the world BUTTA wax!
It was November 2011 that we finalized a wax recipe that was not only eco-friendly but also pretty dam amazing. It was super slippy and lasted at least a week on the snow. We'd cracked it and our mates were loving it. Those that had tested it were calling asking for more. In the end we were spending more time making wax than using it ourselves. It was at this exact moment that we knew we were onto something.
Launching the brand
Butta was never meant to go to market, it was for us and for our friends, but why would we keep it from the world, it would be unfair. Shortly following this we established the business, moved out of the garage and into a proper unit. Butta went from strength to strength in that first year and it was incredible to be such an integral part of an industry we loved.
Within that year we had Butta on the shelves of over 50 shops. We were getting invited to events and being nominated for awards left, right and centre.
Today, Butta is continuing to grow and we are now selling worldwide.
If I can leave you with one thing this is it…..
"Follow ya heart not ya head, everyone told me that quitting my job back then was mental, some would probably still agree but I wouldn't change it for the world. It's down to this incredible industry and the people involved in that have got me where I am where I am today. THANKYOU, I wouldn't be here without you"
Peace out! Jim Stewart, Butta