Big ups London Ski Show & 3 Vallees Party for a great weekend.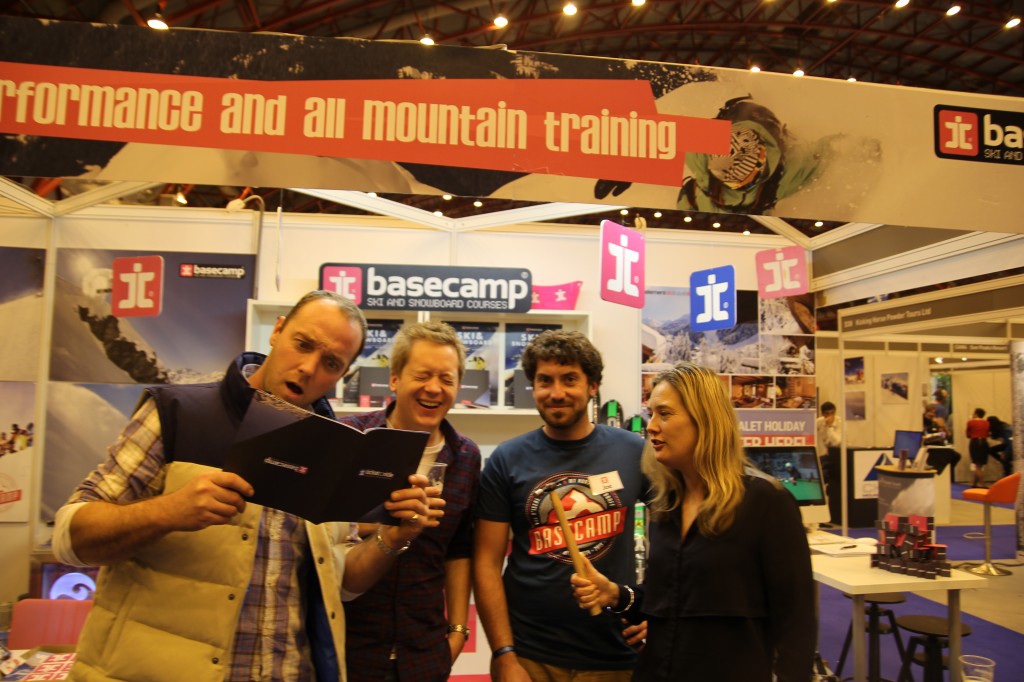 Basecamp migrated to the big smoke this weekend and set up camp for a rather epic few days at the London Ski and Snowboard show. Many a nail was hammered, encountered many a new friendly face, and we finally got to meet this seasons Basecampers at the pre season party. Quite simply, a massive thank you to everyone who made it down to meet us and keep us entertained everyday.
There was an electric atmosphere within the four walls of Earls Court 2, with hundreds of people flocking in all directions to grab some cheap deals on clothes, sample some vin chaud and watch the Animal freestyle bike crew in amazement. It was a pretty fun weekend, and we hope you had an equally good time.
We had an abundance of people showing a serious interest in our future courses, it was great to sit down and speak face to face with you. We have emailed you all with your individual course requirements, so please check it hasn't landed in your Junk email by accident, and get in touch if you need anything else from us. A big thank you to our partners – The British Alpine Ski School who joined us to share the stand. As many of you know, these are the guys that run our ski courses in both Meribel and Val d'Isere, therefore it was great to have them share their inside knowledge with everyone.
Last but not least was the 3 Vallees 'God Save the Snow' on the Thursday night. This event went off, and proved to be a really fun reunion for everyone. With a full fat serving of apres music, great drinks, all culminated by a classically flamboyant show from the Floie Douce crew, big ups to the 3 Vallees crew for bringing their party vibe to London town.
Our Meribel Resort Manager Joe was out capturing the action, check out his edit for a glimpse of what we got up to:
We don't know about you, but London Ski Show has got us firmly in the mood for winter, and we're now counting down the days!
There are a few spaces left on a few of our courses, so please get in touch on [email protected] for more information if you're interested.