Be like an ogre, layer for success in the mountains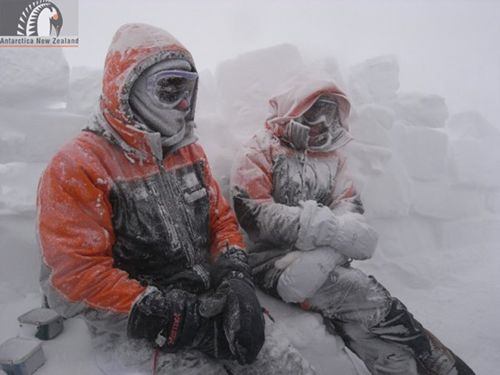 With a 7 month winter from early November to late May, Banff gets all kinds of weather during that period. From slushy spring laps to deep winter deep freeze, you are going to need to be prepared for all conditions to make the most of your time outside in this winter wonderland. Here are some of our tips and tricks to help you stay comfortable during a Canadian winter.
Ogres are like onions, they have many layers and if you want to be comfortable you should dress like an onion as well. Each day you head to the mountains you are going to want to have several different options to keep you warm and dry.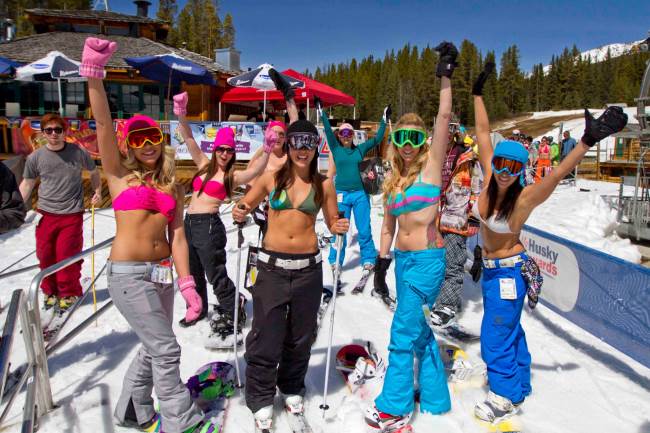 Outerwear: The climate is very dry in Banff and we rarely see rain so you should be focused more on warmth than staying dry. A nice shell jacket to keep you dry is a great item to own but don't worry about breaking the bank and getting the most watertight layer available. Anything with 10 000k waterproofing will be enough and if you are feeling fancy you could get some entry level goretex like the Burton AK cyclic jacket. Definitely make sure it is roomy enough to put more on underneath when its cold as well as having some great vents for the spring days.
Mid Layers: A couple different mid layers are key to managing your climate control. A super warm puffy is great for those -30 mornings, look for one you can pack up into a stuff sack and keep in your bag at all times. When its a comfortable -5 to -15 you can drop the puffy and go with a nice midweight fleece instead. Springtime you can wear just your shell jacket.
Base Layers: Multiple sets are key for season long comfort. Get some super warm fuzzy ones for the depths of winter and a nice lightweight pair for warmer days. Having more pairs means you always have some clean on laundry day and don't need to miss a day of shredding to do your washing. Avoid cotton here as they traps in moisture, synthetics or merino wool are your best options. If you generally run cold you should look at a nice 1 piece thermal like the Airblaster Ninja Suit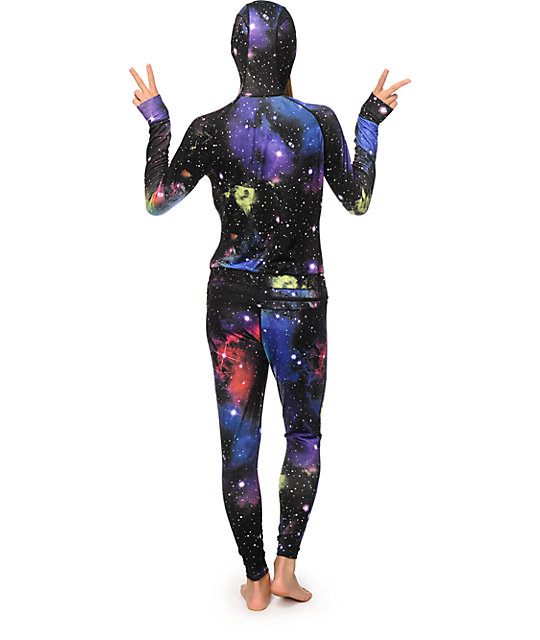 Face and head: Again get yourself a few options for all winter survival. A balicalva to go under your helmet will be key for most of the winter and you can swap it out for a simple neck tube for sun protection during the spring. For the really sub zero weather an over the helmet hood is an amazing addition, its like adding the warmth of another puffy jacket without all the bulk to make you feel extra cozy.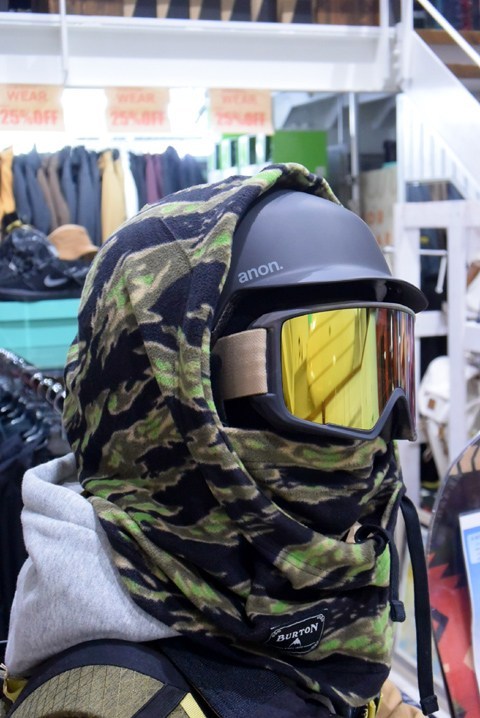 Hands: 3 pairs of gloves are in our regular rotation, a nice pair of warm mittens for deep cold, midweight gloves for most days and some super light park gloves for spring to keep your hands cool. Leather is key for the winter gloves to keep you both warm and dry plus its extra durable. If you really struggle with cold fingers you can get yourself some headed gloves.
Feet: Lots of different ski socks are crucial, you should have a fresh pair every day to keep your feet from developing any odor, your roomates will thank you. Heated socks are great for those more prone to freezing toes and if you are skiing a set of boot gloves will go a long way. Most ski and snowboard companies now offer heated liners to help you spend all day outside in -30.