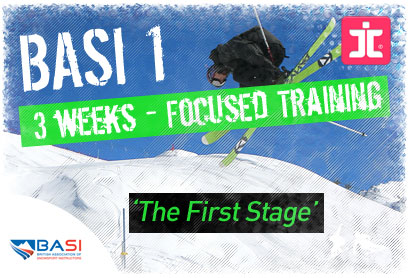 The BASI Level 1 is a course to go for if you are looking for a short course with a qualification that enables you to teach on the ever growing number of artificial slopes and snowdomes back in the UK and around the world
. 
It;s a fantastic course and option if you are looking to spend an extended amount of time in the worlds best resort. 
Course FeaturesCourse Features
75 Hours of Coaching from BASI ISTD Level 4 Instructors and Trainers
Video Analysis and Weekly Feedback Sessions
Centrally Located Accommodation
Breakfast and Dinner 5 Days a Week
Incredible Apres Ski and Nightlife
If 3 weeks is not long enough, but the BASI 1 award is all you need why not check out our All Mountain Ski Courses – combining the level 1 qualification with a full Performance Course taking your skiing to the next level.
What's Included?
For a full breakdown of the course, as well as a chance to compare the 3 week Instructor Course in Val d'Isere with our other courses check out what's included.
Basecampers will be picked up and dropped off from/to Geneva Airport on the start and finish dates of the course. 

On the Mountain
75 Hours Coaching from BASI Level 4 ISTD Instructors
Focus on Tecnhique and Teaching Theory 
Exam Preperation
BASI 1 Exam
Week 1 – Orientation to Val d'Isere. Assessing personal ability with set goals and targets – Avalanche Safety Talk
Week 2 – Focused Level 1 Training and Personal Development
Week 3 – BASI Level 1 Exam and End of Week Party

Employment Opportunities
Basecampers will be able to use the Level 1 Qualification to obtain work in UK snowdomes and dry slopes. A perfect option whilst at University. 

Accommodation 
Central apartment accommodation, 3 minutes from the slopes and 2 minutes from the bars. Wacth Here
BASI Level 1:
Qualifies you to teach novice and early intermediates in a non-mountain environment, ie. the UK on artificial and indoor slopes. For plenty of people this is all you will need in terms of a qualification that you will use, for others it's just a one of the required stepping stones enroute to level 2 and beyond.
First Aid: 
As with all BASI qualification a first aid qualification is required alongside this award for it to be officially recognised and signed off by BASI. First Aid training that leads to a recognised qualification is factored in and included in the Basecamp course.
 
Who is this course best suited to?
Anyone looking to get the best training and start instructing in a short period of time.

How good do you need to be a skiing before the course?
BASI recommends that you should be able to ski parallel confidently coping with a variety of conditions on red runs, making rhythmical turns close to the fall line at a steady pace.
If you would like to head out to the resort before hand in order to have a week or two's skiing and dust off the cobwebs please speak to your course advisor, as this is something we can arrange.

Is the course hard to pass?
No, the course is not hard to pass. There are two components which you will be evaluated on; your skiing (demonstration) ability and your ability to teach the fundamentals of skiing. All of these aspects are trained to each candidate during the course, and the evaluation of your skills is on going. The "lower end" skiing (snowplow turns etc.) is all taught to you on the course and serves as a great foundation for you to improve your skiing skills.
How do I get my BASI Licence? 
Baseamp provide you with 40 hours of training, your Level 1 exam, first aid course, CRB check and make you an associate memeber of BASI. Having done these you will need to complete the Safeguarding Children Module on the BASI website for a cost of £25 and then call the BASI office and pay £20 to become a full BASI Memeber and get yor licence.  

Can I upgrade my course to the Level 2 after booking?
Absolutely, it all depends on our availability. You should chat to the Basecamp team who will run through your options.

What if I'm travelling on my own?
The majority of people will do this course as solo travellers. There is a large Basecamp community in resort, and your Resort Manager will make sure you're quickly introduced to everyone.
iRide Content
Travel Insurance
Insurance is compulsory on all Basecamp courses and as all payments are non-refundable we recommend you take out insurance before the time of the first invoice. Basecamp recommends World Nomads insurance, the details of which are available on request. Though recommended by us for its comprehensive nature it does not cover every eventuality and you should be happy with the policy yourselves – please make sure you read and understand the policy details thoroughly before purchasing. We would also emphasise the insurance policy is a personal arrangement between you and the insurer.
Please make sure you have read and fully understand the policy before the start of he course. If you wish to arrange your own insurance Basecamp will require proof of cover, and full details before you start the course. Any such cover must be no less favourable than World Nomads policy.
BOOK TRAVEL INSURANCE WITH WORLD NOMADS
Flights
Deals on flights are best found by booking early, so if you have booked your course early then you are more likely to get a cheaper fare. You will need to arrive in Geneva on the start day of your course where we will meet you at the aiport and transfer you over to Val d'Isere.

Where to buy a flight?
We reccommend STA Travel. STA (Student Travel Association) are great at finding good deals on flights, round the world trips and much more. They offer flexibility with changing flights and will be able to offer you support whilst you are away. Please see below for contact details of the STA Basecamp Travel Agent:
Claire Purvis
Tel – +44 (0)1618 308758
Email – [email protected]

STA WEBSITE
Expedia and Opodo are always places to look for cheap flight options. Whilst they may come in cheaper than STA they may not offer as much flexibility on changing flights/destinations. However if you are set on arriving and departing on set dates have a look at either website.
With a flight time of only 1hr30 minutes from London to Geneva, another option is to book a flight with a budget airline:

EASYJET
What happens if I want to stay out in resort longer?
We reccommend that you buy a return flight for the finish date of your course and then you can change it whilst in Val d'Isere for a smaller fee than buying two singles if needs be. Please check the flight change flexibility options before you purchase your flight.

Transfers
Transfers are provided on all courses strictly on the arrival and departure dates only. Please make sure you are in Geneva by 2pm so we can pick you up at the airport. Getting a direct flight that leaves anytime after 9am will be fine.
Arriving in Resort
Transfers are included on our Courses, to resort on the start day of the course, a Basecamp representative will be at the information desk in the arrival hall with a Basecamp sign and a Basecamp jacket. Please see travel details above.
 
If you are arriving before the course starts then we can arrange for you to pick up your ski pass. We will try and help you best we can to settle in but we are unable to offer full support in resort as we are concentrating on preparing for the course. Please make sure we have all your details particularly your photo and date of birth as these can cause delays.
 
Please submit the travel information Rider information sheet as soon as possible. It is very important to make sure that your details on the form are correct, as this is the information upon which we base our transfer itineraries, etc.
 
Depending on timings (whether flights are delayed etc) there will be a short social drinks in the evening of the first day of the course. Most courses will start the next day with an introductory talk after breakfast from our Ski Director and Resort Manager. We will also make sure that each person is fully equipped with lift pass and ski or snowboard equipment so that you can head up the mountain for a couple of hours practise that afternoon if you wish.
Coaching will begin early on the first or second morning of the Course or Camp and there will be various events planned during that first week where you will have a chance to get to know your way around the resort and meet everyone on the course. Please be patient as we settle everyone into the resort over the first few days and weeks – there will be people from all across the world, with very different needs and requirements and we will do our best to help everyone get the most out of the course as quickly as possible.
Accommodation Deposit
We will need to take an accommodation damage deposit before you arrive in Val d'Isere. We will be in touch with the finer details before you leave. The damage deposit will be £250. This is refundable at the end of the season once inventories have been completed. It can take between 4-6 weeks to finalise everything, however we will do our upmost to have it finalised as soon as possible.
Kit List
Below is a brief list of some essentials we advise you to bring but please try and keep your packing to a minimum as much as possible – you will value the additional space, less clutter and it will leave room for the inevitable in-resort purchases! Please also be aware that many airlines now have quite strict regulations in place regarding excess baggage. We very strongly recommend you check these before you fly – excess baggage fees have risen substantially, particularly on budget airlines.
Footwear
Comfortable indoor shoes
Walking boots or tough trainers
Casual Clothes
Socks
Trousers/Skirts
T-shirts/Tops
Shirts
Pullovers/Jumpers
Jacket
Scarf
Wash bag
Towels
Ski / Snowboard Clothing
Socks
Thermals
Vests
Pullovers
Ski/Snowboard Jacket & Pants
Hat
Neck Warmer/ Face Protector
Goggles
Gloves
Sunglasses
Sun Tan Cream
Other things to bear in mind
Small Notepad to fit in Coat Pocket & Retractable Pencil (Pens will freeze)
Plug Adaptor
Mobile Phone – internationalise. See client FAQs.
Ipod
PC/Mac
Music
Camera – plus chargers, etc.
Books
DVDs
Card
Lots of clients choose to bring laptops but we don't recommend travelling with many valuables.
Pre Season Information Pack
We will be sending you a pre season information pack nearer the time of the start of your course. If you have any questions in the meantime please just let us know.