Basecamp Partnership – Discounts for this season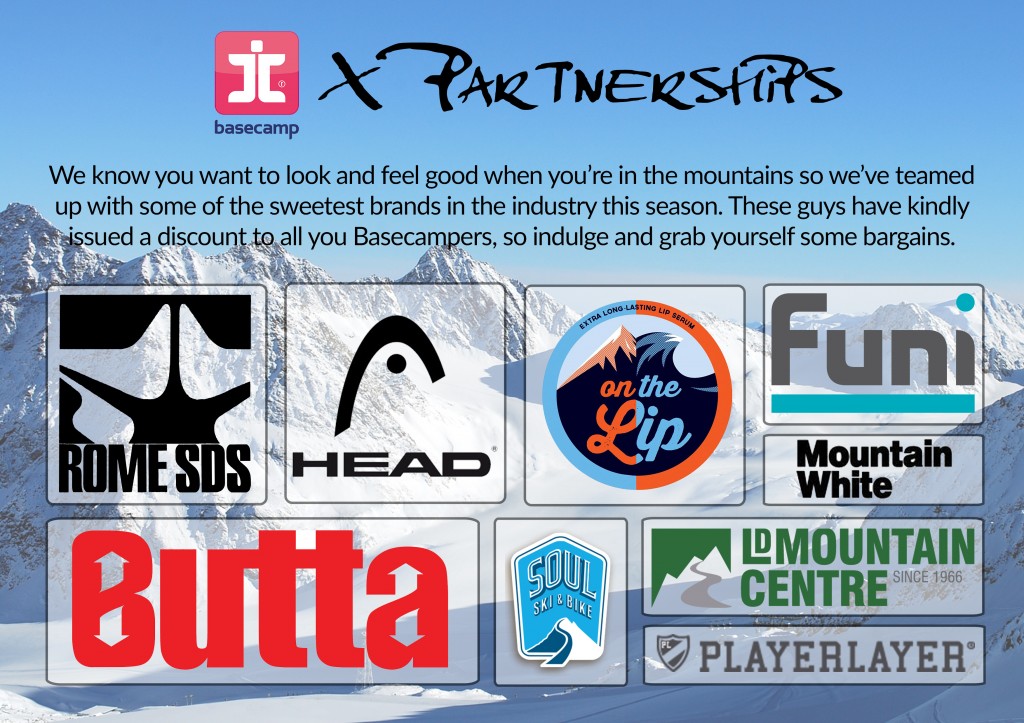 As the start of the season looms closer we are getting everything in place to get all our customers the best deals we can. We are linked with various companies getting you the best prices on everything from equipment to money off in bar's and shops in town.
For all discount information and to receive you're unique codes – please email [email protected]
Rome SDS – Snowboard Design Syndicate – Rome was founded on the idea of riders having a voice for their passion. Our in house snowboarder Gwil has been riding on Rome for the last few years, and loves their gear. Endorsed by the likes of Stale Sandbech, if you're looking for a powder weapon, a flexy jibstick, or some of the comfiest boots and bindings known to man, then this is the place to go. With pretty ridiculous discounts on all Rome Gear, get in touch.
Head – For yet another year, we have secured a great link with Head giving Basecamp a huge discount off two different types of ski's. If you are thinking of coming on an instructor course then either pair of these ski's couldn't be more ideal. Click here to read more about them and hear what head Val d'Isere coach has to say about them. Get your order in before they all go!
On The Lip – Designed by mountain people for mountain people, and now proudly protecting lips all over the world, we're stoked to be working with these guys. With added herbal extracts and an SPF of 15, this product is healthier for our bodies and also helps preserve our planet and the seasons we all live for. All of Basecamp HQ will be lapping this on for the winter, you certainly should too. 
Funi – In need of some finely spun British Northern yarn to keep your noggin warm this winter? Look no further than FUNI! With a sweet seasonal and custom hat, scarf and all things warm collection, we strongly support the products and ethos of this brand. Knitted by mothers and grannies in the UK, and with a generous 10% off all things, go kit yourself out.
Mountain White – Born from the love of all things mountain, Mountain White bring you premium British alpine apparel. With some seriously stylish but very hard wearing back packs, as well as an array of Merino wool shirts, beanies and even dresses, head to their website and treat yourself to some fine garments.
Butta – A wax that's green, clean & makes your base one fast gliding machine. Since its birth in a Breaking Bad style laboratory in 2011, the guys behind Butta Wax have gone from strength to strength and certainly grown into being an integral part of the industry. Whether skiing or boarding this coming winter, hook yourself up with some of this nature loving substance for your skis or board.
Soul Ski and Bike – A shop based in the centre of Banff. The shop is ran by a fantastic team who are very well recognised in Banff, with a team who have been there for decades. Therefore have a huge amount of experience in the industry. They offer Basecamper 15% discount in the first week and then 10% for the rest of the season.
Ld Mountain Centre – An online store with a huge range of mountain clothing and equipment, this partnership gives you access to a whole array of goodies. They are giving anyone coming away with Basecamp a 20% online discount, so try and restrain yourself from buying a massive shopping basket in preparation for the season ahead.
Player Layer – You won't be getting cold this winter when protected by Player Layer. Offering a wide range of under layers and thermals, Basecamp customers get a 20% discount online.
Once on a course in resort with Basecamp, everyone will be given a card which will prove to bar's and shops that you are a seasonaire. Having this card allows you to have 10% discount in every equipment and clothing shop in town. It also gets you discount on drinks and club entry throughout the season. Being a seasonaire definitely saves you money as it normally isn't a cheap lifestyle!
There are few places left on all our Ski and Snowboard Courses so get in touch TODAY and speak to one of our team of specialists. We can help you make your dream a reality!
Phone us on – 0208 789 9055
Email us at – [email protected]