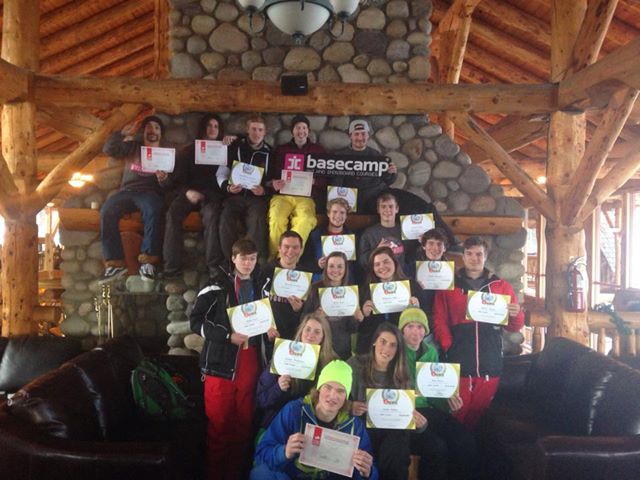 As quick as it started our 4 week course in Banff has pretty much wrapped up and in true basecamp style we finished with a bang.
            The last couple weeks on snow we had shifted up our pace up to include a lot more time going through the material that everyone is expected to teach on their level 1 exams. It was quite good getting everyone to tone it down and think like a beginner for a few days, we had a lot of fun playing around with different teaching scenarios and helped everyone become very comfortable presenting the material. Its no surprise that after the exam was all finished that we had a 100% pass rate for both our skiers and snowboarders!  
            Lake Louise is lucky enough to hold the winter start world cup ski race event each year for two weeks in late November to early December. This means that the worlds best skiers descend on the resort to put on an amazing show. The races take place on the weekends so it's the perfect time to catch all the action as the on snow coaching for the Basecampers takes place midweek.  
            Our group challenged Nonstop, one of the other instructor training programs to a dodgeball tournament for an evening activity last week and they did us proud. After losing the first round we can back to destroy them with a 3-1 victory, in nonstop's defense we had an awesome secret weapon up our sleeve's, a Swedish Viking who was able to strike fear in their hearts!  
            After the exam we had a big night out to celebrate the hard work everyone put in throughout the course and the fact that they were all officially instructors.  We started out with a team dinner at Chili's then followed it up with some drinks at Mel's one of the most popular bars among the gap crowd due to their insanely cheap drinks. From there we caped it off with some late night dance moves at the HooDoo.  
            Today a large chunk of our group started the trek home but for some the real adventure is just beginning. We had 7 members of the group apply for jobs with the Snow School at Lake Louise and all 7 of them were offered positions! I'll keep you posted on everyone's progress throughout the season as they live the dream and train for their level 2 exams.  
Check out the below for a run down of the groups last week in Banff.
-Andrew
Join us in Banff for one of our full season courses starting 10 January 2014 More Info Here >>
Blurb
The final update from our Banff 4 week instructor course, November-December 2013