Winter is under way!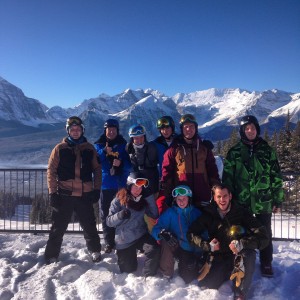 Nov 13th saw Lake Louise Ski Resort open up in Banff, Canada and with it came the start of our 2014/15 northern hemisphere programs. A high altitude means that Lake Louise is always one of the earliest resorts to open in North America and this year we were the first in Canada. We had some very anxious people on the ground waiting for opening day as it means our 4 week instructor program can finally get under way.
All of our programs start off with an action packed opening weekend and this one was no different. After making the journey across the Atlantic the groups are met in the Calgary airport by our Banff resort manager, Andrew. After a quick nap on the bus to Banff its time to check into the base of operations for the next 4 weeks, the Ptarmigan hotel right in the middle of Banff. Wasting no time we dropped our bags then headed over to Athena pizza for some dinner and beers to kick off our first night. Not surprisingly though everyone was in bed before midnight as it was about 7 in the morning UK time.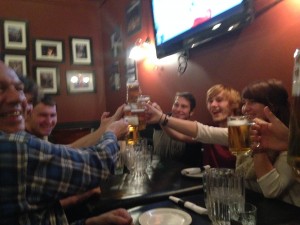 The second day of the course is always a busy one for us, starting off with a massive breakfast at the Ptarmigan. A massive breakfast buffet is included 7 days a week on the course, including an omelet station and real maple syrup to drown everything in. After everyone was fueled up we did a lap of town to familiarize ourselves with our new home. The first stop was Unlimited Skate and Snow, one of the resort partners in town. They put on a great little tech session for us, letting everyone know about all the cool new tech coming out in the snowboard world and what products we need to survive the season. Ninja suites are a favorite as it can get extremely cold out here. Later that day we popped into Soul Ski and Bike to get the low down on ski equipment and boot fitting as well as a few beers thanks to the shop staff. By then it was dinner time so we headed our for a few burgers and beers before meeting up with some of the Basecamp Alumni for a couple drinks. There are a piles of basecampers in town working for the ski hills and they are always super excited to see a fresh crop roll through town.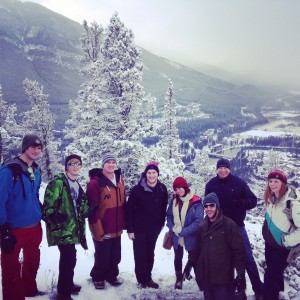 Sunday we had a pretty relaxed day as we were gearing up for our first Sunday Funday. In most ski towns the locals party on weird nights of the week as they work all weekend long so in Banff Sunday is probably the biggest night of the week. I'll leave out the details so I don't embarrass anyone but everyone had a great time.
Monday Andrew came up with the great idea to hike up Tunnel Mountain to kill our hangovers so after pushing the start time later in the afternoon we started out on the two hour trek to one of the peaks above Banff. From there you can get a great view of the whole valley and all of the mountains in the area.
After a few casual days in town mother nature finally decided to bless us with some white gold and it was time to head to Lake Louise. We rolled straight into our first day with some shaky legs but thanks to the trainers at Lake Louise everyone was ripping. Everyone was on snow until last chair so after a long day we headed up to the famous Banff hot spring and then to the Rimrock for some cocktails. Not a bad way to wrap up our first day of training.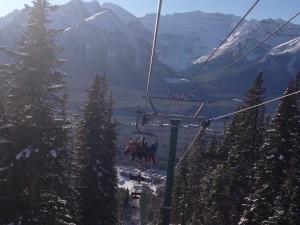 Make sure you keen an eye on this space for all the updates from Banff.