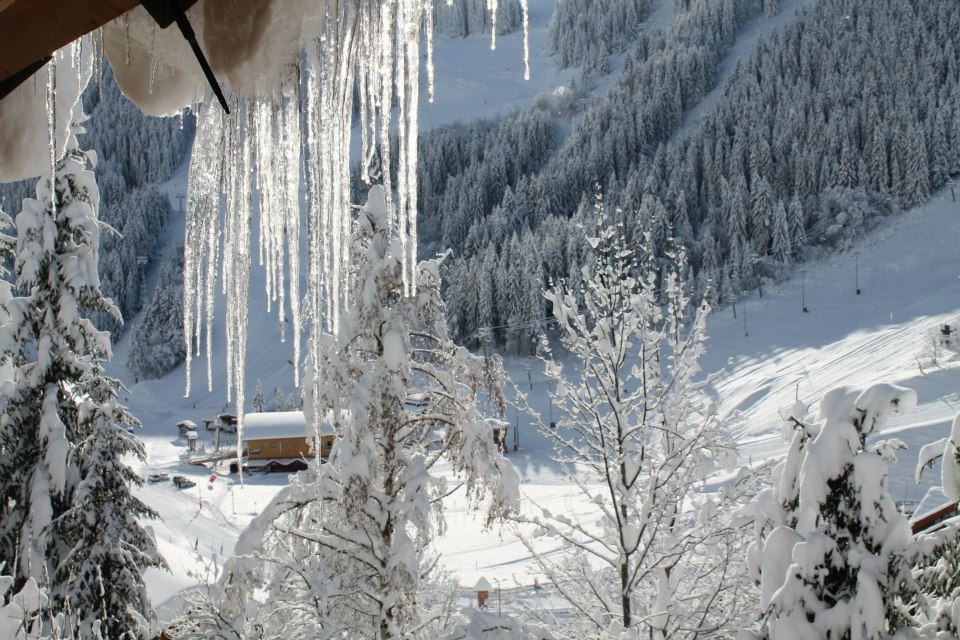 After a summer in Paris and a quick trip back home to Oz, I'm back in Meribel, the heart of the 3 Valleys…  and wow, life is good!
While I'll admit it was pretty hard to leave the sun, the sand and the surf behind, with loads of snow on the ground, the sun in the sky and Meribel gearing up for an awesome winter season with loads of extras like Ibiza Rocks the Snow, I'm pretty damn excited to be here! And the best part? It just started to snow!
Home Sweet Home @ Chalet Les Matines
Getting back to our flagship chalet, Chalet Les Matines, was a real treat – nestled amongst the trees on a snowy path just metres from the piste and Meribel town centre, Chalet Les Matines is one of those classic alpine chalets: cosy and full of character, but also perfectly positioned for a genuine ski-in, ski-out holiday.  
Putting the Element Ski Travel touches on the chalet in anticipation of the arrival of our first guests (like chocolates on the pillow and bubbles on arrival), I was reminded why Chalet Les Matines really is one of the best chalets to wake up in in Meribel – have a look at this view from the breakfast table, right across Meribel Valley!
Our first week of guests had an awesome time in Chalet Les Matines, playing lots of (drinking!) games around our open fire and enjoying all the benefits our brand new Element Ski Travel service has to offer, including bakery-fresh pastries each morning, yummy tea served daily, and warming 3 course meals each night.  
 
Our owners are enjoying their chalet over Christmas, but I can't wait for our New Years guests to arrive – imagine ringing in the new year with a glass of champagne on the Chalet Les Matines balcony with a birds eye view over the fireworks display in Chaudanne!
I've also been managing check-ins our seasonal accommodation over the past few weeks, which is perfectly positioned in the Morel region of Meribel, about 10 minutes walk from Meribel town centre and right next to the Morel chairlift.  We've got a really good crew of seasonnaires settling into our 2, 3 and 4 man apartments right now, with just a few beds remaining up for grabs. If you're still thinking about doing a season, stop thinking about it and get in touch now!
There's so much going on off the snow in Meribel this season, it's hard to keep up!  Old favourites Bring Your Sisters have reformed and are doing the rounds at après bars all over town.  We've also said goodbye to Dick's Tea Bar (boo hiss) and welcomed a new, sleeker all-night party player – O'Sullivan's (hooray).  Not only has the club had a major facelift, O'Sullivan's promises an awesome line-up of DJ's and off-piste events this year, starting with Ibiza Rocks the Snow.
Brining a bit of that island party vibe to the Alps, Ibiza Rocks the Snow is putting Meribel back on the musical map with 3 weeks of breakthrough live acts and electronic artists, daily après ski events, street parties, terrace parties, ice parties, etc, etc, etc. The first of those weeks is happening as I type, and this week we've already been treated to some awesome (and free!) après events and some pro riding at the Monster Energy Rail Jam. Here's a shot of our not-so-pro mate Alex Leziac of ESDS showing us how it's done:
Snow, snow, snow
But all that's by-the-by really, because the real event for Basecamp here in Meribel is sliding down mountains, and there has been plenty of that over the first weeks of the season too!
With some enormous snow falls in November, the Meribel and 3 Valley pisteurs had a field day getting a great base down and opening links ahead of schedule.  Conditions were so good on my first day out, I couldn't get the smile off my face:
Since then we've been treated to day after day of sunshine and mild temperatures, meaning even this beach lover has been able to stay out on the mountain all day, lapping up bluebird skies and the likes of this breathtaking sunset over the Alps:
But the best news yet??? Here in Meribel, we've just received an early Christmas present… because guess what? IT'S SNOWING!
Blurb
Latest news from Bri out in Meribel…