Content
CSIA Qualification
Basecamp Ski Instructor Courses in Canada follow the CSIA accreditation system, and are an excellent way to graduate with CSIA ski teaching skills. The Canadian Ski Instructors' Alliance (CSIA) is Canada's professional training and grading system for qualifying ski instructors. CSIA is a member of the ISIA (International Ski Instructors' Alliance). The ISIA is a global organisation that overseas the quality and correct balance between different participating snow sport governing bodies worldwide.
CSIA Level 1
The entry level ski instructor qualification for teaching novices and young children how to ski. The Canadian Ski Alliance (CSIA) Level 1 is an introduction to CSIA technique and methodology, and the role of ski teaching within the ski industry.
Which Course: All Instructor Courses in Canada
Employment Opportunities: In Canada, USA, Australia, Bulgaria, and Japan.
CSIA Level 2
Having completed the Level 1 award, Level 2 is the next level for Canadian skiers looking to start out teaching intermediate skiers on the mountain. Both the training and final examination for this award require dedicated training and a high level of skiing and enables you to teach all over the world. CSIA Level 2 is awarded and assessed on two levels, teaching ability and level of skiing. To train and pass this level requires dedicated training, commitment and skill.
Which Course: All 7 and 11 week Instructor Courses in Canada
Employment Opportunities: Most countries worldwide excluding France and Italy.
Logo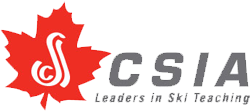 Ticks
Great Job Opportunities